Maximum Rocknroll #378, the November 2014 issue, features Part I of our ex-Yugoslavian history series: an extended Slovenian punk retrospective. BULDOGI, TOŽIBABE, INDUST-BAG, QUOD MASSACRE, PANKRTI, GRUPA 92, ŠUND, and KUZLE are interviewed about their roles in the fertile early Slovenian punk scene, including stories about smuggled instruments, bootlegged records, and high-school dances, as well as the legacy of Ex-Yugo bands. Also in this issue, Northwest Indiana's BIG ZIT and OOZE stop by the compound on their West Coast tour for a split interview, and we have the final interview with recently-split Bay Area band YI. Jason Flower, the man behind the excellent reissue label Supreme Echo, gives us a window into how he developed his eclectic taste and clues us in to a few upcoming releases. An in-depth Australian scene report of punk activities Down Under and a photo spread from Philly's recent POC Rockers! show round out the issue. And, as always, we've got all the columnists you love to hate, plus demo, book, movie and zine reviews and the most extensive punk record review section in print!
• Buy issue #378 of MRR here •
You can also order this issue by mail by sending $4.99 in the US, $7 Canada, $9 Mexico, or $11 worldwide to: MRR • PO Box 460760 • San Francisco, CA 94146 • USA …or just SUBSCRIBE!
Get a deal on a killer 2″ MRR button designed by Guillem or an MRR button 4-pack when you buy this issue in our new webstore!
---
Still available: MRR #377 • October 2014 issue…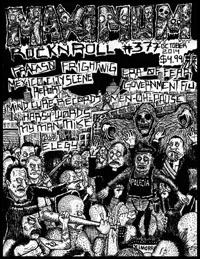 This issue of MRR features Venezuela's chaotic FRACASO, Mia d'Bruzzi of the Bay Area's FRIGHTWIG, Poland's GOVERNMENT FLU, South Korea's MYMANMIKE, Pittsburgh's Mind Cure Records, ERA OF FEAR from Greece, England's MEN OH PAUSE, Bay Area motörpunks ELEGY, HARSH WORDS from Athens, GA, photo spreads from L.A.'s Beserktown Festival and New York's Latino Punk Fest, and Yecatl Peña with this month's cover art and a Mexico City scene report.

Comments :