MRR #371, April 2014: the All Columns Issue! With topics such as Detroit powerhouse BILL BONDSMEN, très productive French punk label Crapoulet Records, legendary ex-Yugo pioneers O!KULT, New York's catchy punks RATIONAL ANIMALS, and the New York's Alright festival. We've also got UK hardcore ragers STAB and WOOLF, Minneapolis hardcore D-beat ladies VARIX, and a Miami scene report. All of this, plus record, zine, book and movie reviews, all the columnists you could ask for, New Blood, Shitworker of the Month and much more!
Buy issue #371 of MRR here:
You can also order by mail: send $4.99 in the US • $7 Canada • $9 Mexico • $11 worldwide to: MRR • PO Box 460760 • San Francisco, CA 94146 • USA …or just SUBSCRIBE!
Still available: MRR #370 • March 2014 issue…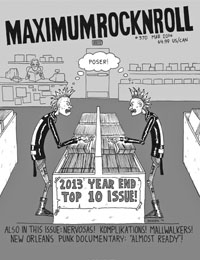 The 2013 Year-End Top Tens Issue! Dozens of punx from around the world share their top ten records of 2013, plus Ohio's NERVOSAS, Buffalo NY's MALLWALKERS, German/ Belgian synth punks KOMPLIKATIONS, and New Orleans punk documentary Almost Ready.

Buy issue #370 here:

March 6th, 2014 by MRR