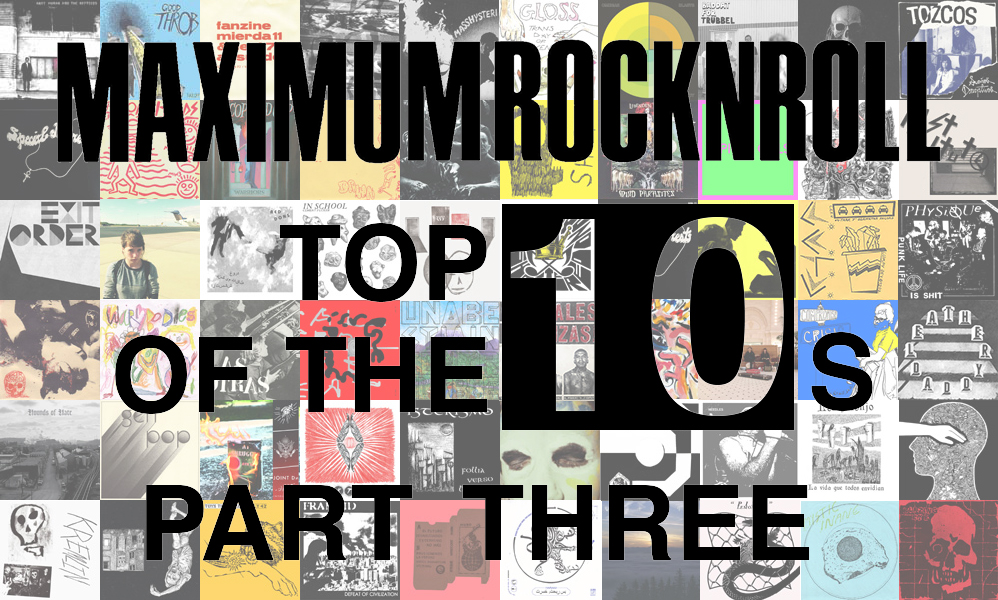 The Best of the 2010s, Part Three
The third and final installment of the last decade's best releases.
Thanks to every shitworker, conspirator, and contributor who took the time to reflect here—see you again in 2030…
VIOLETA HINOJOSA
Violeta is a Mexican punk who has played guitar, bass, and vocals in bands such as RATAS DEL VATICANO, CREMALLERAS, SOGA, LOS LLAMARADA and a few others. She's also an occasional illustrator for punk flyers and album art.
V/A – Brutales Matanzas LP (Cintas Pepe, 2010)
The first record on my list has got to be the first release of the Mexican label Cintas Pepe. This compilation not only has incredible tunes by now-classic Mexican and Peruvian punk bands like LOS MARGARITOS, MORBO, and INSERVIBLES, but it also means a lot to me because it really helped spark the punk scene in Mexico in the last decade, and also helped introduce Mexican punk to a broader international audience. Such an important release. I know if it hadn't happened, things now would be so much different over here.
EXIT ORDER – Seed of Hysteria LP (Side Two, 2017)
This is such a perfect hardcore record. All ten of the songs are super potent, and very much reminiscent of an '80s USHC sound that in a way reminds me of bands like ZERO BOYS. It's also sonically so different from other hardcore punk records that came out this last decade. I think it's impossible to listen to this whole record only once.
JUANITA Y LOS FEOS – Nueva Numancia LP (La Vida Es Un Mus, 2014)
This might have been the album I most obsessively listened to the past decade. I probably know the lyrics to every one of these songs, and that's something I never intentionally do. JUANITA Y LOS FEOS never got the full credit they deserved as the great songwriters they are. Everything about Nueva Numancia is beautiful and powerful, and I wish more records like this existed.
TERCER MUNDO – Depresión EP (Cintas Pepe, 2012)
This record deserves to be in the list of the most important releases of Mexican hardcore punk history, if they ever make a fucking book about it. It came out in such a critical time, since we were living in the midst of the so-called "war on drugs" that former president Calderón established, which was incredibly damaging to all aspects of living in Monterrey. All five songs on this EP spoke to a lot of us about all the anger, frustration, and pain that we all felt during that time, and brilliantly captured what we all went through and thought about.
DESTRUYE Y HUYE – Oscura Sociedad EP (Verdugo, 2014)
I fucking looove DESTRUYE Y HUYE, and I don't know what else to say about these songs other than they're amazing and I always have a blast listening to this whole EP. Why no one is paying attention to DESTRUYE Y HUYE more than other hyped punk bands from the US is something I can't seem to understand.
TOZCOS – Sueños Deceptivos LP (Verdugo, 2018)
Best band from Santa Ana, California. The riffs are incredible and unlike any other bands from this time. Catchy, well-crafted, and strong. Also one of the best bands I got to see live these past few years. 
IGNORANTES – Olor a Cuero Rancio, Vino y Raja cassette (Cvrecs, 2015)
Great "tupa tupa" from Chile with fierce lyrics. I was very surprised when I listened to this for the first time. It will unsurprisingly though make a lot of these decade end top tens lists, I'm sure.
FIRMEZA 10 – El Grito De La Tierra EP (self-released, 2010)
FIRMEZA 10 is Hardkore Radikal from Spain, and their sound has been extremely influential for me. This is pure rage and noise. I'm obsessed. D-beat the way it should fucking sound. :)
PATSY – LA Women LP (La Vida Es Un Mus, 2017)
Super cool snotty punk with amazing catchy songs. Right up my fucking alley. Also, Candice is one of the best songwriters in punk right now. One of my most-listened albums since it came out for sure.
DAWN OF HUMANS – Blurst of the Birdfish EP 2012 (Toxic State)
Kings of Mutant Hardcore Punk from NYC! This album is harsh and raw, but also really weird in a way that I love. It also has an element of Japanese punk to it that I'm all about. This is what I'm here for.
CC SERVON
C.C. Servon writes a column and sometimes does interviews. She's 16 and lives in Philly, where she screams and pretends she can play guitar in SNOT HOSTEL, and co-runs Dad Habits records. Her only goal is to be an urban legend.
SCREAMING FEMALES – Rose Mountain LP (Don Giovanni, 2015)
The first real DIY show I saw was SCREAMING FEMALES during the end of the tour for this record. Having never even listened to them before the show, I was completely blown away by one of the most powerful live bands I've been lucky enough to see. "Criminal Image" showcases their live power best; at shows, it can stretch out for upwards of eight minutes to accommodate even more Paternoster-patented shredding. But the highlight of the album is "Hopeless." It's a simple song musically, but the way it addresses the complexity of chronic illness in a profound way, the pain of wanting to break up with a body like you can break up with a person, makes it one of the greatest songs of the 2010s.
JEFF ROSENSTOCK – WORRY. LP (SideOneDummy)
WORRY. just might be my favorite album of all time. Jeff's been a master of tying together musical and lyrical themes throughout an album since his BOMB THE MUSIC INDUSTRY! and the ARROGANT SONS OF BITCHES days, and WORRY. might be his best shot at this yet. The songs on the second side all bleed into each other, cultimating in the last five, where the multitudes of themes (including but not limited to gentrification, growing up, technology, social activism, helplessness, worry, and most of all, love; of a person, or music, or a city, or yourself) come together and are resolved with the albums last rallying cry: "Perfect always takes so long because it don't exist."
MARTHA – Blisters In the Pit of My Heart LP (Dirtnap, 2016)
MARTHA uses one catchy, honest, and lovable song after another to paint a picture of a place and the characters in it. I love the first line of "Chekhov's Hangnail," although I'd argue that MARTHA are pretty great fucking poets. What really distinguishes MARTHA from every other pop punk band are their rollicking Motown-inspired guitar licks, like those in "Precarious" and "Do Whatever." "Ice Cream and Sunscreen" might be my favorite track, gun to my head, and makes me want to get a bad stick-and-poke of a soggy box of matches. This is what pop punk is meant to sound like.
PUP – The Dream Is Over LP (SideOneDummy, 2016)
PUP takes pop punk tropes and flips them around into weird time signatures and other music nerd shit, but not in a way that's obnoxiously math rock or proggy. The Dream Is Over opens with the fantastically titled "If This Tour Doesn't Kill You, I Will," which rockets right into "DVP," which is the band's quintessential song. My favorite track is "Sleep in the Heat"—which is about Babcock's dead pet lizard, Norman—just because I'm a drum nerd, and that 2⁄3 polyrhythm at the beginning puts a big, stupid grin on my face every time.
FIDLAR – LP (Mom + Pop Music, 2012)
Fourteen garage-y, skuzzed-out tracks of fucked up perfection. FIDLAR possess more emotional depth than most of the "hey kids, do drugs!" JAY-REATARD-worshipping bands that ran amok the first bit of this decade. This is most evident on "No Waves," which is probably the best song these guys have ever written. It's got this bittersweet little NOBUNNY-ripped riff. You can destroy yourself to it live, but if you need to cry alone in your room at 2 AM, it passes the ultimate test of songwriting and works beautifully as a hauntingly sad acoustic version. This record is perfect for doing dumb shit with your friends, or when you're lonely and need something that hits more than your dad's CCR records.
SUPERCHUNK – Majesty Shredding LP (Merge, 2010)
I discovered this album over the summer when I was working a job that required me to take both the subway and the trolley to the end of the line. For about three weeks, I'd put Majesty Shredding on for my whole commute, there and back. MacCaughan's fantastic songwriting just makes you want to stick your head out of a car window like a dog. I love the nerves-tinged teenage hope of "Digging for Something." I love the slightly off-kilter chorus of "My Gap Feels Weird." "Learned to Surf" makes me want to relearn how to surf. Every fiber of "Crossed Wires" is perfection—it's the kind of song that you want to show everyone you love.
BEACH GOONS – hoodratscumbags LP (Grandview, 2018)
BEACH GOONS are honey-flavored, better-than-surf type punk from Logan, San Diego. Some lyrics are in Spanish, most are in English, and all of it's great. Bassist David Orozco gets extra points throughout the album for adding the extra dimension that differentiates BEACH GOONS from every other band with the word "beach" in their name (although all their Spotify bio says is "we hate the beach"). Additionally, their live version of "La Bamba" rips like there's no tomorrow.
FONTAINES D.C. – Dogrel LP (Partisan, 2019)
Dogrel is a dying form of Irish poetry with an irregular rhythm and rhyme, and a fitting name for these Irish poet-punks' debut. Singer/master lyricist Grian Chatten mourns the loss that comes with a changing country over reverb-y (but not obnoxiously so) riffs. The opening track, "Big," offers a sort of mantra for the record: "My childhood was small / But I'm gonna be big." I love the simple bop that is "Liberty Belle." "Too Real" is on the other end of the spectrum, with its slower build-up, jet-engine guitars, and malcontented, rhythmic singing. "Boys in the Better Land" is an anthem. FONTAINES D.C. tackle a lot of different styles on this record, but retain their signature songwriting through it all. I'm excited to see where these guys go next.
TOYS THAT KILL – Fambly 42 LP (Recess, 2012)
Fambly 42 is when veterans TOYS THAT KILL's songwriting become truly next level. Garage-gem pops like "V-Chip" and "I've Been Stabbed" are the sort of songs I could have on repeat forever. There's some strummier ones like "Stye" and "Freddy and His Mother," and some angstier ones like "Ape Me" and "Abort Me, Mother Earth." My personal favorite is the keyed-up restlessness of "Nervous Rocks." For some of us, there's nothing better than fuzzed out guitars twisting on timeless melodies, and if that's you, then you'll love Fambly 42.
MITSKI – Bury Me at Makeout Creek LP (Dead Oceans, 2018)
Iggy Pop called MITSKI the greatest American songwriter, and with Bury Me at Makeout Creek, she's certainly earned herself a place among those ranks. What I love most about MITSKI is the way she writes about music, and the specific set of worries and fears that come with playing it. The way she sings the beginning of "Drunk Walk Home"—part mournful, part defiant, all crushing weight of emotion—captures it beautifully: "For I'm starting to learn I may never be free / But though I may never be free / Fuck you and your money / I'm tired of your money." The songs build over the same five beat rhythms, and what sounds like a crowd cheering. MITSKI begins to scream with primordial, wordless anger, as if she's trying to drown out the cheering audience, until only her raw voice is left. Bury Me at Makeout Creek is the least traditional punk album on this list, but if you give it a shot, I doubt you'll be disappointed.
GREG BENEDETTO
Greg Benedetto plays in S.H.I.T. and was one of the organizers of Toronto's Not Dead Yet festival.
1. HANK WOOD & THE HAMMERHEADS – Go Home LP (Toxic State, 2012)
No one city or scene dominated hardcore punk in the '10s like Toxic State and New York City. And of that scene, there are a number of releases that could very easily be considered for a top ten of the decade. Of all of them, this one is mine. This LP was so singular at the time it was released, and live they were (and still are) a total force. 
2. UNA BESTIA INCONTROLABLE – Observant Com El Món Es Destrueix LP (La Vida Es Un Mus, 2013)
A true monster of a record. The phoenix from the ashes of INVASÍON/DESTINO FINAL. That they showed up to North America to play as it was released only made it more impactful. The first time I heard these songs was live at ABC No Rio, and they are just burned in my brain.
3. MASSHYSTERI – LP (Feral Ward, 2010)
This one just creeps in, at the beginning of the decade—and maybe a controversial opinion, but it's perhaps the best work of the Viklund/Pettersson/Almgren camp. Also one the last great records on the nearly infallible Feral Ward.
4. TOTAL CONTROL – Typical System LP (Iron Lung, 2014)
I can't think of one record that exceeded expectations more in the past decade than this one. Henge Beat is as much of a contender for a list like this, but realistically, Typical System might just be TOTAL CONTROL's magnum opus—the cynicism was still pointed out at the world. We're lucky to have a band like TOTAL CONTROL in our midst, so focused on just being what they themselves want to be, and never bending for anyone.
5. TERCER MUNDO – Depresión EP (Cintas Pepe, 2012)
Far and away, the best art in a punk record in the '10s. It still haunts me. I said it in 2014 and I'll say it now: I think this record art got the closest to making you feel how the cover of Why? was supposed to make you feel. And it's just a destructive driving force of a 7".
6. WARTHOG – Culture? EP (Beach Impediment, 2016)
This record feels like a different band than the first two 7"s. I don't know what the hell changed in the make-up of this band from the first two records to this one, but holy shit did they ever perfect the art of the track. Pure, unbridled rage, pounding drums, ripping guitars. Perfect shit.
7. HOAX – Down EP (Youth Attack, 2011)
It was hard to decide between this and the first HOAX 7", but there is no doubt in my mind that they were one of the most vital bands of the decade. Their shows were just purely destructive. I've not seen a band before or after turn a room so psychotic. Easily one of my top live bands of the decade, too. Every single time, they blew the doors off.
8. KRIEGSHÖG – LP (HG Fact / La Vida Es Un Mus, 2010)
Unhinged, ripping noise. At the time it appeared, it exceeded any and all hype. A huge and noisy recording, and in advance of any of the bogus trends of "D-beat" or "raw punk." And ten years later, still better than almost all of their contemporaries. The thing stands the test of time.
9. DIÄT – Positive Energy LP (Iron Lung, 2015)
So a couple Australians wanted to start a band to play TOTAL CONTROL's Berlin gig, and somehow we ended up with an LP, years later, that is one of the only ones that can even get close to sitting in TOTAL CONTROL's company in the '10s. Still aces.
10. BLOODKROW BUTCHER – Anti-War EP (Side Two, 2012)
This one gets on here for what are maybe the best lyrics of the decade. "Who declared the fucking war? / Not the corpses / Anti-War." Urgent as hell when it came out, and it still goes.  
AL QUINT
Al Quint is a longtime Maximum Rocknroll columnist, as well as the publisher of Suburban Voice fanzine and blog (subvox.blogspot.com) and host of Sonic Overload radio (sonicoverload.net). He lives in Massachusetts. Contact him at subvox82@gmail.com
Let's face it: a lot of things about the 2010s sucked. I'm not just talking about the orange turd currently residing in the White House, but, in my personal life, some not-so-great shit happened. I lost friends at a much-too-young age. Among them were Brandon Ferrell from DIRECT CONTROL and many other bands, as well as No Way Records; Chelle LaBarge, a dear friend who helped promote shows in Albany, NY and was a passionate music fan. I don't think I ever met anyone who loved the REPLACEMENTS more than she did; Dave Bakkari, a longtime fixture at Boston shows, who never let a physical disability get in the way of living life to the fullest. Dave would have me in stitches when he told me about his antics over the years. And my wife Ellen suffered a near-fatal health scare in 2015 that, fortunately, she was able to completely recover from. We've now been married for over 31 years (and I've known her for almost 41) and, believe me, not a day goes by where I'm not grateful to still have her in my life.

But it didn't all suck. Instead of doing a conventional top ten, I decided to make a list of things that I liked about the past decade. So, not in any particular order…

1. THE BOILER ROOM
The Boiler Room was the best DIY space in Boston in years, lasting from 2013-2016. It was a dilapidated building in a truck lot in Allston, and I'd imagine its semi-isolation might have helped a bit. The shows there were chaotic. Beer cans and other projectiles would fly, often accompanied by fireworks. It was basically a death trap. It did get to be a bit much at times, but they also had some incredible bands come through. Bands from all over the world, as well as a number of notable local bands who developed out of that venue. The list is endless. The thing about the Boiler Room is, even with the craziness, everyone pretty much got along or seemed to, and I don't think I ever saw a fight. I'm amazed they kept it open as long as they did, since there's been a big crackdown on basement and DIY shows for awhile now. I imagine part of it was that they relied on word of mouth and flyers and kept most shows off social media.
2. BOSTON (AND MASSACHUSETTS) IS STILL MY HOME
I mentioned bands that emerged from the Boiler Room. The great thing is that there's a core of people who have stuck around, and keep creating new punk and hardcore bands, as their old ones go by the wayside. Earlier in the decade, there was COMBAT ZONE, MALE NURSES, BLOODKROW BUTCHER, FLACCID, 2X4, CHAIN RANK, BOMBERS, DRY HUMP and others playing no-bullshit hardcore punk. EXIT ORDER, VIDEO FILTH, ANCIENT FILTH, SADIST and SAVAGEHEADS have existed through a good chunk of the decade. Newer units emerged later on, including SKINNED ALIVE, INNOCENT, CRISIS ACTORS and PCP & THE KNIVES. And credit is due to people like Brian Poulin from VIDEO FILTH who keep things going by tirelessly booking shows at various local venues.

3. NYC BUNG PUNK OR WHATEVER YOU CALL IT
I suppose that's the best way to describe another group of people/bands who have kept the NYC scene going in various permutations over the past decade. I've heard those bands described as "bung punk," and I'm guessing it comes from DAWN OF HUMANS' "Bung Life." Or I might be wrong. Anyway, I'm thinking of CRAZY SPIRIT, HANK WOOD & THE HAMMERHEADS, IVY, JJ DOLL, DEFORMITY, KALEIDOSCOPE, NANDAS and EXOTICA. The commonality is fuzzy guitar, scampering or clattering drums (in CRAZY SPIRIT's case, it's more of a rodeo beat and HANK WOOD come from more of a garage/psych muse), bathed in relatively low fidelity. It's an identifiable sound. And there's a fiercely DIY spirit and a lot of aesthetic creativity in the packaging of the records.

4. DIY OR DIE—RECORD LABELS STILL MAKING A DIFFERENCE
You keep hearing that most people experience music these days through Spotify and other streaming services. But there are record labels who have stuck to their guns and continue to release quality vinyl. Sorry State, Neck Chop, Feel It, Toxic State, Feral Kid, Total Punk, Iron Lung, La Vida Es Un Mus, Drunken Sailor, and Erst Theke Tonträger all have expanding catalogues of all sorts of killer punk, hardcore, post-punk, dark wave and garage, not limiting themselves to only one style of music. One of my friends who still brings a distro on tour with him says no one buys records anymore. So I have to give a tip of the hat to people who invest lots of time and money into keeping things going, especially with postage and shipping costs having gone through the roof in recent years.

5. MELBOURNE, AUSTRALIA
I've never been to Australia, but Melbourne is definitely on my travel list. There have been so many great bands over the past decade. EDDY CURRENT SUPPRESSION RING really seemed to get the ball rolling way back in the mid-2000s (and have recently ended their long hiatus). I've been enjoying a steady stream of quality releases from the likes of UBIK, MOD VIGIL, RED RED KROVVY, LEATHER LICKERS, COLD MEAT, ENZYME, GELD, KRÖMOSOM and many others, each carving out their own musical niche.
6. AUSTIN
I know things are getting gentrified there, and clubs are shutting down or being revamped, but Austin remains a fertile breeding ground for kick-ass punk/D-beat/hardcore bands. There's a core of people: Eddie Leal, Dru Molina, Victor Gutierrez and Chris Ulsh have all been involved in multiple aggregations, joined by other friends. Their bands deliver the goods live and have a stream of solid releases. VAASKA, CRIATURAS, IMPALERS, KURRAKÄ, MUJERES PODRIDAS, and MIRROR have all made some serious noise during the 2010s.

7. PITTSBURGH
Another city with a steady stream of ass-kicking hardcore punk bands: BLOOD PRESSURE, D.O.G., LOOSE NUKES, CONCEALED BLADE, EEL, RAT-NIP and S.L.I.P., to name just a handful. EEL, in particular, played one of the more memorable sets I saw this decade—first band I ever saw with a vocalist brandishing an angle grinder.

8. NOT ALL REUNIONS HAVE TO SUCK
I mainly see newer bands these days, but still feel the pangs of nostalgia, and will check out the old-timers on occasion. I'm not a fest-goer anymore (which seems to be where most of the "heritage" artists play), but there have been bands who can give the youngsters a run for their money. I've never seen NEGATIVE APPROACH or JERRY'S KIDS play a half-assed set. Both bands completely bring it and no one can stare down an audience better than John Brannon. JERRY'S KIDS claim they've played their last show but I don't believe them. The PROLETARIAT came out of a 30 year slumber (save for a brief regrouping as CHURN in the mid-'90s), and sound rejuvenated. Their new album Move had some strong tracks (although it ain't Soma Holiday). JESUS LIZARD were as exciting in 2018 as they were in the '90s, and David Yow still a maniac.
9. JOINT D≠, BRAIN F≠, ISS
A group of North Carolina bands/projects with crossover membership, and the abbreviations stand for JOINT DAMAGE, BRAIN FLANNEL and IN SCHOOL SUSPENSION. Rich Ivey from ISS is also the mastermind behind WHATEVER BRAINS, but I never completely warmed up to them. Not the case for the others. BRAIN F≠ and JOINT D≠ both provide a dense 'n' heady punk mesh. ISS construct ear-grabbing minimalist punk with smart lyrics and creating sampling.
10. EASY ACCESS TO A TANTALIZING MUSICAL UNIVERSE
I know digital technology is the proverbial double-edged sword but, as I've always said, it's what you make of it. I love having the ability to immediately check out bands that pique my interest, whether it's from reviews or suggestions or even just randomly scanning Bandcamp or torrent sites (shhh…). That applies to both new and old bands. Maybe it's too easy, and I know some people have an issue with "illegal" downloading, but I'm the type of person who'll buy something if I like it. But I try to balance the time spent in front of screens with human interaction, even though the latter can sometimes be overrated. Punk rock is still best-experienced in the live setting, and it's important to live in the moment. I take photos, but make sure I put the camera away for a good amount of the set. So keep the phone in your pocket, cut the shit, and start the pit. See you there. 
HAFIZ BASTARD
Punk is shit business. Direct complaints from Singapore, South East Asia.
GLAM – Duelo de Titanes EP (La Vida Es Un Mus, 2010)
Got this record in 2010 from a Spanish friend who frequently visited this part of the world for work during that time. I was already familiar with INVASIÓN and DESTINO FINAL before this, but people said this was something different. I was looking forward to checking this shit out. This debut 7" by GLAM instantly hit the spot. I will never forget the ferocity that they deliver that lasted for about five minutes.
FRAMTID – Defeat of Civilization LP (La Vida Es Un Mus, 2013)
It took them eleven years after Under the Ashes to finally come out and produce another ferocious full-length masterpiece that defines FRAMTID to be the best hardcore punk band in the world.
RED DONS – Ausländer / Mauvaise Foi 7" (Dirtnap, 2012)
I could talk about all their other records, but I have something to say about this 7". It only contains two songs. But I'm telling you that "Ausländer" is by far the best punk rock song that has ever been written. OK, at least for the decade? Classic down-stroking, a bit poppy, but dark at the same time. Let me repeat that: "Ausländer" is the best punk rock song ever written.
DIE – Vexed EP (Sonic Terror Disc, 2014)
Straight-to-the-point British hardcore that still blows the fuck out of me today. I still remember when someone just played me their first 7" before this, and told me they sound like a mix of DISCHARGE and SS DECONTROL. He was right.
LIFELOCK – 2018 EP (Brain Solvent Propaganda / Symphony of Destruction, 2019)
I've seen this band putting their shit together since 2010 when they first started, and now they have that cult status going on. They're good in what they do, and always on point with that wall of noise where Kawakami left behind. This record will always be there to be the one that is continuing the legacy of DISCHARGE and DISCLOSE in 2020 and beyond.
HERÄTYS – LP (Not Enough, 2010)
I was hanging out with Jacob (Adult Crash Records) when he was following NDT on tour here in Singapore in 2011. Talking about bands like any other normal punk person, he told me about this new band called HERÄTYS. I got hooked once I got the LP. I was already a fan of TOTALITÄR, but HERÄTYS is a game changer. They went on to release two more 7"s after this debut LP. Both also deserve to be the best punk shit of the decade.
HÄVITTÄJÄT – Hävittäjät EP (Hardcore Victim, 2014)
I can totally say that they are the best Finnish-style hardcore band outside of Finland. This 7" is very underrated, but they have been playing on my turntable a lot over the last couple of years, and I have been lucky enough to see them every time I was in Melbourne. They have an LP that came out last year, but this first 7" will always be the one that hit it for me.
RADIOACTIVITY – LP (Dirtnap, 2013)
I have no idea what they are singing about, but I assume it's about some personal issues and broken hearts. There's no lyrics insert in the record, and it keeps me curious. But fuck, who cares, this record is crazy good. Melodic, melancholic, jangly, downstroke-heavy on the guitars, perfect running hi-hats—this became the ultimate garage punk record of the decade. Their songs will be humming in my head forever.
TRAGEDY – Live in Singapore (2013)
I was lucky enough to organize a show for Portland's TRAGEDY here in Singapore. Not many bands get to tour to this part of the world. So for a lot of us, it was such a privilege, and also knowing how they have been inspiring a lot of us in the DIY punk world. The venue was packed and hot as fuck with 300 punks going crazy. It was a rare night seeing 300 punks for a Singapore show. After the show, the venue banned us for wrecking the place.
MURO – Live at K-Town Hardcore Fest (2018)
Ask anyone who was there, and I can guarantee you that it was the best live punk band they've seen live in a long time. I managed to see them again a few months later in Toronto for NOT DEAD YET, and they delivered with the same intensity. It was really emotional at the same time. Words can't describe.
NERVOUS INTENT
Nervous Intent Records' Megan March's top ten bands I thought were great live from 2010-2019.
NEON PISS (Bay Area)
PIERCED ARROWS (Clakamas)
SCREAMING FEMALES (New Brunswick)
NERVOSAS (Columbus)
VEXX (Olympia)
YOUTH AVOIDERS (Paris)
SILENT ERA (Oakland/SF)
TABLE SUGAR (Olympia)
CROOKED BANGS (Austin)
YI (Oakland)
GOLNAR NIKPOUR
Golnar Nikpour has been a Maximumrocknroller since 2004 and is also the woman behind Square One Again Records. 
Narrowing this down was genuinely difficult. Like every previous decade of my life, music was my greatest source of solace and friendship throughout the 2010s. Leaving some of my favorite records off this list or relegating them to the honorable mentions was no easy task. Still, I was charged with providing a list of ten, so ten it shall be. The prevalence of bands from the Bay Area reminds me of how much being a part of Maximum Rocknroll has meant to my existence. In no order except the first three, which taken together define my taste and worldview as well as any three records can. 
GOOD THROB – Fuck Off LP (Sabermetric / SuperFi / White Denim, 2014)
This album is my slam-dunk pick for record of the decade. It's one of the truly great punk records in the entire history of our flawed but lovable scene. What can I say? Ellie is probably the most terrifying and cathartic vocalist in punk since Eve Libertine. If you only own one punk record from any era, this is quite honestly as good of a pick as any. A masterpiece, and I don't say that lightly. 
SACRED PAWS – Strike a Match LP (Rock Action, 2017)
If GOOD THROB is the best angry punk band of the decade, SACRED PAWS has been the best joyful punk band of recent vintage. Rachel Aggs is a queer punk hero for the ages, a brilliant this-band-could-be-your-life champion for our dark and dreary times. Thank you, Rachel; I wouldn't have gotten through the decade without your music. 
LEBENDEN TOTEN – Static! 12" (Iron Lung, 2017) and Mind Parasites LP (self-released, 2017)
I reviewed the first LEBENDEN TOTEN 7" in the first issue of my old fanzine in 2003, and since that time I have been an utter devotee to LEBENDEN TOTEN's church of noise. If I had to pick only one of their records from the decade as my favorite—I know I'm cheating by having two listed — it would be the one-song, one-sided Static 12", which is 11:58 of perfect worldmaking noise-not-music. Seeing this famously reclusive band live—which I had the good fortune to do three times in the 2010s—has been both otherworldly and utterly sublime. 
PIG DNA – Mob Shity 12" (La Vida Es Un Mus, 2015) and D.O.M. cassette (Commodity, 2014)
Is there a more memorable lyric from this past decade of hardcore than "OH YOU LIKE THAT SHIT DON'T YOU! BAD TASTE! SHITLIKER!" I highly doubt it. 
MIDNITE SNAXXX – Chew On This! 12" (Pelican Pow Wow, 2017)
Do you like the RAMONES? Do you enjoy songs about space aliens and/or gentrification? Then please allow me to introduce you to this pitch-perfect snotty punk pop band from Oakland, CA. How has this band not taken over the entire world?! 
COLD BEAT – Into the Air LP (Crime on the Moon, 2015)
I could've flipped a coin and gone with virtually any of COLD BEAT's records, all of which I've listened to literally hundreds of times. Into the Air gets the call because of the songs "Broken Lines" and "Am I Dust," which perfectly capture COLD BEAT's mastery of pop hooks and lyrical pathos.
PIECE WAR – Apathy 10" (Epic Sweep, 2014)
Full disclosure: I liked this ultra-limited lathe-cut 10" so much that I later reissued on LP because it was way too good to be that limited. And although I decided not to put records I've released on this list otherwise, I'm sneaking Apathy in on that minor technicality. New Zealand has long been known for its punky bedroom pop, and PIECE WAR nestles perfectly into that lineage, but with more songs about the horrors of colonialism than I typically associate with the genre. "Darkness"—the first song on the record—is a top three song of the decade.  
CHRONOPHAGE – Prolog For Tomorrow LP (Cleta-Patra, 2018)
The most recent entrant to this list, and the record that most sounds like a long-lost Blast First or SST record from 1986. Demented yet tuneful weirdo Americana for this or any era. 
SILENT ERA – O Horizon LP (Last Hour / Sabotage, 2018)
From their demo to this most recent release, I have been deeply moved by everything this Oakland-based hardcore band has released. A perfect blend of melodic Euro-styled hardcore with melancholic anarcho-punk guitar parts and lyrics = Golnarcore for the ages. 
FIRMEZA 10 – El Grito De La Tierra (self-released, 2010)
FIRMEZA 10 is DIY hardcore punk at its absolute best: angry anarchist punks playing raw noise against the system. Bury me with this record when I'm dead and gone. 
Honorable mentions: SBSM – Leave Your Body (Thrilling Living), RASHOMON – Pathogen X (Iron Lung), ROYAL HEADACHE – all, PATSY – LA Woman (La Vida Es Un Mus), GIRLSPERM – gSp (Thrilling Living), EXPLOATÖR – Vinstbegär LP (D-Takt & Råpunk), VEXX – all, HYSTERICS – Can't I Live EP, FORRA – Mostrame Lo Peor EP (La Vida Es Un Mus), LAS TIMIDAS – Maqueta 2010 tape (self-released), IRREPARABLES – demo LP (Nominal), PADKAROSDA – Tétova Lelkek LP (Static Age), PRIMETIME – Tied Down EP (La Vida Es Un Mus), HOUSEHOLD – Items 12" (Dull Knife), CCTV – 4 Track 7" Diameter Record (Lumpy), MILK MUSIC – Beyond Living 12" (self-released) 
KAI BOSWORTH
Kai Bosworth lives in Richmond, VA and very occasionally posts at Stochastic Slide. 
BARCELONA – Extremo Nihilismo en Barcelona 12" (La Vida Es Un Mus, 2015)
Pummeling and tight, yet teetering on the edge of complete dissolution. It's hard to disagree with the opening assessment of Extremo Nihilismo…—"todo es una pesadilla"—when we're constantly bombarded with its closing lines: the there-is-no-alternative Thatcherism, "no hay sociedad / sólo individuos."
GOOD THROB – Feminazi EP (SuperFi / Play Pinball, 2012) and Culture Vulture EP (Muscle Horse, 2013)
"Toner Loner" and "No Taste" remain my favorite GOOD THROB jams, but the gorgeous trash can production of their first two 7" records is truly unmatched. Searingly critical and deeply humorous at the same time, the question "do you want a bag?" haunts the nightmares of former grocery store and service industry workers everywhere.
THE SHIFTERS – The Shifters cassette (Comfort, 2015) / The Shifters LP (Future Folklore, 2018)
Mark E. Smith's brain was far too rotted by the combination of repeat viewings of the 30-hour BBC World War II documentary and various drug cocktails to have a truly critical and nuanced reading of history. Enter the SHIFTERS, who have made one of the more haunting records in recent memory by narrating world-historical events from the first-person perspectives of minor actors who carried or were entrapped by them. 
TOTAL CONTROL – Typical System LP (Iron Lung, 2014)
Listening to Typical System in 2014 was similar to what I imagine the experience of reading Neuromancer in 1984. I suspect the record will age quite a bit better than Gibson's book (y i k e s). 
BAADER BRAINS – New Era Hope Colony 12" (Clean Plate / Ebullition, 2012)
An underground polar autonomous commune provides a defensive retreat for the cadre of misfits, queers, and junkies to survive the impending apocalypse. Samples from UP WITH PEOPLE and John Carpenter's The Thing mingle with the odd saxophone lick and documentary narration of the 1980s Zurich youth riots. Gang vocals impart the wisdom of the future: however cold it is right now, soon the plaster will crumble and our lives will be much better. A letter from the future included with the record informs us of the Young Tigers' journey, reminding us that "Within the cesspool of Capital's terminal decay there is life—however much a drained and endangered species we may be made to feel." The effect is a collage, a call to arms, and a survival strategy much larger than the confines of punk and hardcore as music, genre, art (or—god forbid—lifestyle). Sarah Kirsch left us some 50 records over the last 30 years. Though New Era Hope Colony was not the last or best of her records, it feels like the most fitting for this decade (and all those prior to 2300). 
HOME BLITZ – Foremost + Fair LP (Richie, 2015)
Madrigal music for weirdos. Ren fair for punks. Garage rock for LARPers. 
PIECE WAR – Apathy 12" (Square One Again, 2017)
Unlike the celebrated shambolic songs of New Zealand bands of yore, PIECE WAR is saturated with a different kind of emotional urgency or weight, drawing at least in part from the nausea-inducing struggle of living and surviving in/under a settler colonial state. Though laden with pop hooks, Apathy serves as an indictment of the disregard many of us in settler states display towards the history and present of coloniality. Urgent and important survival music.
C.C.T.V. – 4-Track 7" Diameter Record EP (Lumpy, 2015)
Four perfect songs that inhabit that strange no-persons-land between new wave and art punk. Something like a Midwest PINK SECTION, or perhaps DOW JONES AND THE INDUSTRIALS' first experience of neoliberal hellworld. 
TENEMENT – Napalm Dream LP (Mandible, 2011)
Napalm Dream could be deemed a time-and-place record by some; the early 2010s were indeed a great period to be involved in punk in the Midwest. That said, TENEMENT is not only the most creative and enduring band of that moment, but also transcends any reductive reading as "'Mats revival" (or whatever). Many tracks!
SCOTT AND CHARLENE'S WEDDING – Any Port in a Storm LP (Fire, 2013)
If FELT were more emotionally invested in the NBA, they could have made music as perfect as this.