This originally ran in MRR #312/May '09. which you can grab here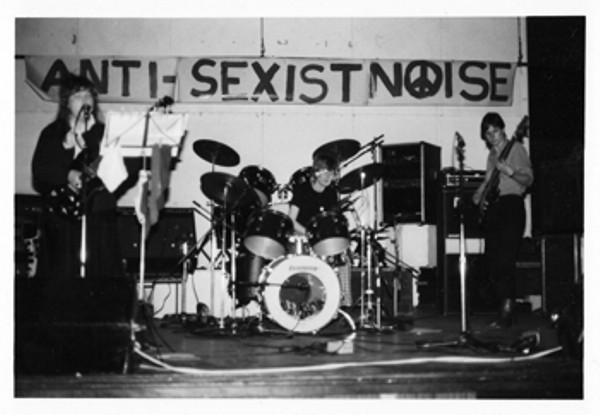 Stef Petticoat is best known for her pioneering, one-woman punk band, the Petticoats. As a German lesbian, Stef also stands out with her entirely unique approach to the blossoming late 1970s European punk scene. Her self-recorded, self-released Petticoats single was "Record of the Week" on the BBC's John Peel show in 1980. As the '80s progressed, Stef also formed the groups Necessary Evil, Amy and the Angels, 69 Lies, and collaborated with Robert Crash. Her trailblazing methods have proved successful in even more fruitful ways—with almost three decades of music, Stef Petticoat's story is one that illustrates the diverse history of punk.
Interview by Jess Scott
MRR: Let's start from the beginning: how did you originally get into playing music? What kind of music were you first attracted to?
Stef: According to my baby book I was singing constantly before the age of two. I have no recollection of this. I always liked music. When I started school I learned to play the C Alto and Tenor recorder with the Youth Music School—classical music. When I was about 13, Beat music started. I really liked the Beatles and Rolling Stones, and desperately wanted to learn to play guitar. But my parents said no and I had no money. After I had pestered them for a year they finally gave in and I was given an acoustic guitar for Christmas and had lessons. Unfortunately, the teacher and my parents insisted I learn classical guitar, as this would be the basis for pop music. Later a friend showed me a few chords and I have not really progressed from that! After Beat, of course I was a hippie and loved the Grateful Dead, Frank Zappa, Jefferson Airplane, etc. And I really liked the Velvet Underground! I grew up in the bourgeois '50s (I am now 59!) and already as a hippie I felt "out of the system." But it was punk that really made me think, "This is the best music ever and this is what I want to do!"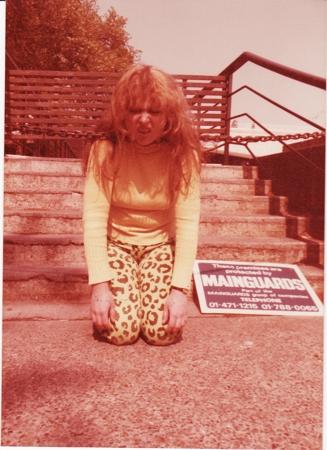 MRR: How did you make the jump to being in punk bands then?

Stef: This is all so long ago! I hope I remember it all. After I got infected with punk (in 1976 I think, when I traveled to London and New York City), a friend (male) who was a singer in a band suggested I try it out. I started singing Patti Smith songs with a friend who played the piano. I had bought the Patti Smith songbook in New York and loved it. Then I tried to find a band who wanted a singer, but this turned out to be very difficult. I worked in Aachen at the time and spent my weekends in Bonn (where I used to live).

I auditioned for bands in the Aachen, Bonn, and Cologne area, but they were all boring male rock bands who had never heard of punk. They thought I was too wild and my musical ideas too crazy. So I thought, well, if I really want to make the music I like then I have to go to London or New York! I packed my bags and went to London. The bands I auditioned there were just as boring—what a disappointment! Finally, one day at the women's arts alliance, one woman told me about someone she knew who might be into the same music as I—and she was! It was Zuni (who is now a student of ecology in New Zealand). She and I hit it off right away. She played the drums and I bought an electric guitar and sang. We found a bass player, (who left shortly after to continue her university studies, so we found another), and an additional guitarist. We called the band Necessary Evil. We wrote songs and played a few gigs, but the other guitarist was a very strong lesbian feminist separatist. I refused to sing her songs, which were only about killing all men. She decided she did not want to play shows for men anymore—but I did! We had a lot of arguments. The other band mates took her side and decided to dissolve the band. This was a great shock to me. After a while I became friends again with Zuni, and the bass player, Trish, who now is a gardener.

Comments :