How's it going, Maxi Rockers? We just got another killer edition of MRR hot off the presses! In Maximum Rocknroll #376, the September 2014 issue, we have an extensive talk with punkettes the DISHRAGS, one of the first all-lady punk bands, who started out in Canada in 1977; we spend some time superbly wasted with Chicago's favorite punk ragers GAS RAG, and we talk to Toronto's hardcore menaces and mobilizers S.H.I.T.. We also have a long talk with Jon and Jensen of Iron Lung Records, talk abyss punk and goth inspiration with Philly's FAR-OUT FANGTOOTH, and Madrid's EXTINCIÓN DE LOS INSECTOS debate experimentation and creativity within the DIY setting, while director Vladimir Kozlov tells us about his upcoming documentary on '80s Siberian punk, Traces in the Snow. Last but not least, after a great split EP and before their upcoming tour in the US, we get a split interview with Finnish dark synthy post-punks KUUDES SILMÄ and MAAILMANLOPPU; a chat with Paul Birnbaum of SEPTIC DEATH, and a scene report from Patras, Greece! All this, plus "New Blood," Shitworker of the Month, a photo spread, book, demo, zine and movie reviews, all the columns you love to hate, and let's not forget the most extensive review section in punk print! Grab your copy today!
Buy issue #376 of MRR here:
You can also order by mail: send $4.99 in the US, $7 Canada, $9 Mexico, or $11 worldwide to: MRR • PO Box 460760 • San Francisco, CA 94146 • USA …or just SUBSCRIBE!
Get our new MRR button 4-pack for only $2 more when you buy this issue! —->

SPECIAL SUBSCRIPTION BONUS! Subscribe to MRR and get a free exclusive COCK SPARRER flexi while they last. Go to our subscription page for deets.
Still available: MRR #375 • August 2014 issue…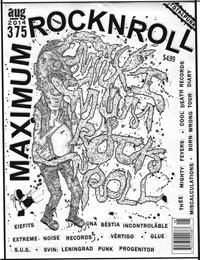 Iberian powerhouse UNA BÈSTIA INCONTROLABLE, 20th anniversary of MPLS's Extreme Noise Records, Leningrad punk progenitor Svin, Texas's GLUE, VÈRTIGO from Barcelona, Australia's Cool Death Records, Japan's EIEFITS and THEE MIGHTY FEVERS, Serbian rock 'n' rollers S.U.S., MISCALCULATIONS from the UK, Canada's BORN WRONG, two photo spreads, and a special "New Blood" spread. Cover by Jordan Poggerpants.

Buy issue #375 here:

July 30th, 2014 by MRR