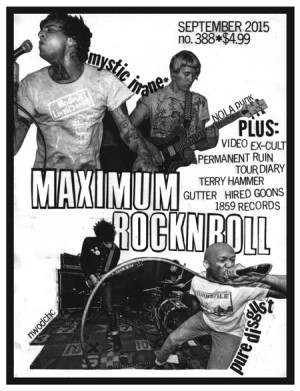 MRR #388, the September Issue, features interviews with New Orleans mold breaking freak-punks MYSTIC INANE, vitriolic Texas snot-punk cult VIDEO, and Memphis's Goner "groove masters" EX-CULT. We've also got conversations with PURE DISGUST (at the forefront of the NWODCHC), Terry Hammer (Toxic Reasons' manager and a first wave San Francisco punker), Canada's HIRED GOONS (oi! oi!) and Greece's GUTTER. Plus, an in-depth tour diary from PERMANENT RUIN's recent European run and a back-n-forth with 1859 Records. Plus all the reviews and columns that you love!

You can also order this issue by mail by sending $4.99 in the US, $7 Canada, $9 Mexico, or $11 worldwide to: MRR • PO Box 460760 • San Francisco, CA 94146 • USA …or just SUBSCRIBE!
---
Still available: MRR #387 • August 2015 issue…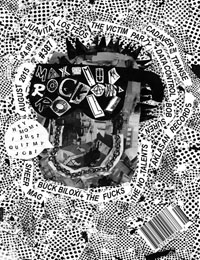 SHEER MAG from Philadelphia, São Paolo's CADAVER EM TRANSE, Madrid's JUANITA Y LOS FEOS, the singular mind behind BUCK BILOXI AND THE FUCKS/GIORGIO MURDERER, France's reunited NO-TALENTS, Stockholm's DATA CONTROL, San Francisco's Filipino punk label Aklasan Records, reflections on growing older in punk from Bob Suren and the VICTIM PARTY, plus photos from Boston's Smash It Dead fest.

Comments :