It's time for Maximum Rocknroll #390, the November 2015 issue! On our cover: AS MERCENÁRIAS, DIY post-punk legends from Brazil whose revelatory 1983 demo was just reissued on Nada Nada Discos. This issue also includes two conversations spanning the punk festival circuit: Not Dead Yet organizer Greg Benedetto sheds light on the motivations behind punk promotion, the ethical challenges of a growing fest, and a perfect day in Toronto; further south, organizers and performers alike pitch in on a brief oral history of Chattanooga's Do Ya Hear We fest. Even more interviews in these pages, direct from the source: famously prolific MPC-augmented Ohio punks OBNOX; revolutionary Oakland noise voyagers SBSM; the dark and entrancing STRANGLED out of Edmonton; severe and austere Chicago post-punkers POPULATION; the raw noisy hardcore pandrogynous agenda of Portland's EMASCULATOR; and last but not least, our first-ever interview with PARASITES in their nearly 30-year history spanning New Jersey and the Bay Area. As if that weren't enough for you, we've also packed in photo spreads from the opening weekend of DIY Space for London and, from the dead center of the midwestern freak beat underground, Springfield, IL's Dumb Fest 3D. All of this, the columns you love to loathe, and the most extensive reviews section in the wide world of punk print.

You can also order this issue by mail by sending $4.99 in the US, $7 Canada, $9 Mexico, or $11 worldwide to: MRR • PO Box 460760 • San Francisco, CA 94146 • USA …or just SUBSCRIBE!
---
Still available: MRR #389 • October 2015 issue…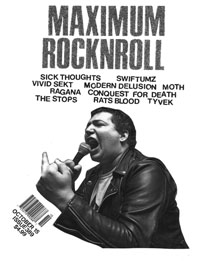 Baltimore's teen hatethrob SICK THOUGHTS, an East Asian tour diary from CONQUEST FOR DEATH, Portland's VIVID SEKT and the STOPS, the Bay Area's own SWIFTUMZ, RATS BLOOD from Ireland, Danish dark punks MOTH, Croatia's MODERN DELUSION, and Oakland's RAGANA.

Comments :