It's time for Maximum Rocknroll #387, the August 2015 issue! Philadelphia's SHEER MAG discuss livin' in the city and their new record, CADAVER EM TRANSE (featuring a member of RAKTA) talk about life in the concrete jungle of São Paolo, and JUANITA Y LOS FEOS give us a taste of life in Madrid. The mind behind BUCK BILOXI AND THE FUCKS and GIORGIO MURDERER provides a window into his madness through a two-part interview with Eric Oblivian and Layla Gibbon. The NO-TALENTS prepare for their upcoming reunion tour, Stockholm's DATA CONTROL still love HÜSKER DÜ, and Bob Suren and the VICTIM PARTY reflect on growing older in punk. And Aklasan Records talks Filipino hardcore distribution and promotion in the United States! Plus, a photo spread from Boston's Smash It Dead fest by Angela Owens and a cover by Cretins of Distortion creator and MRR columnist Emmy Ramone. And, as always, all the columnists you love to hate and the most extensive record, book, zine, demo and film review sections in punk print!

You can also order this issue by mail by sending $4.99 in the US, $7 Canada, $9 Mexico, or $11 worldwide to: MRR • PO Box 460760 • San Francisco, CA 94146 • USA …or just SUBSCRIBE!
---
Still available: MRR #386 • July 2015 issue…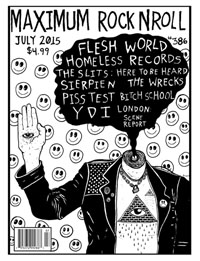 FLESH WORLD from San Francisco, Portland's PISS TEST, Philly's YDI, Reno's WRECKS, Here to Be Heard: The Story of the Slits documentary, PDX rockers BITCH SCHOOL, Russian post-punkers SIERPIEN, Australia's Homeless Records, photos from our worldwide MRR Presents shows in May 2015, and London scene report.

Comments :