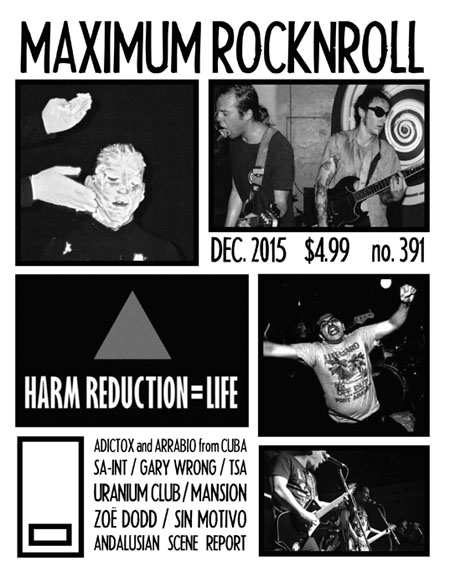 It's time for Maximum Rocknroll #391, the December 2015 issue of punk's longest continuously running fanzine! This one is loaded. In these pages you will find what may be the most in-depth correspondence with the MINNEAPOLIS URANIUM CLUB BAND you'll find anywhere—their parent company and attorneys are notoriously cagey, so read here for more on this Midwestern rock group, their origins, and their sponsors. We've also got interviews with Finnish hardcore lifers SA-INT, Alabama antagonist GARY WRONG, the minds behind the radical and labyrinthine Texas hardcore of SIN MOTIVO, the jagged noiseniks of Oakland's MANSION, and outsider San Francisco hardcore punks TSA. There's even more! For our first ever interview with any Cuban band in these pages we sat down with ADICTOX and ARRABIO during their Canadian tour, and capping it all off is an incredible interview with Zoë Dodd, Toronto harm reduction worker, activist, and punk. Also included: a scene report from Andalusia as well as photo spreads from Not Dead Yet 2015 and All Punks Go For It, a raw punk rager in the heart of California's Central Valley. All your favorite columnists are here too, along with punk's most comprehensive and unsparing reviews section.

You can also order this issue by mail by sending $4.99 in the US, $7 Canada, $9 Mexico, or $11 worldwide to: MRR • PO Box 460760 • San Francisco, CA 94146 • USA …or just SUBSCRIBE!
---
Still available: MRR #390 • November 2015 issue…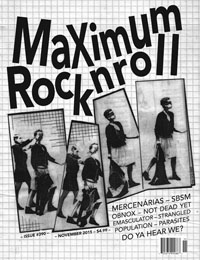 AS MERCENÁRIAS from Brazil, Toronto's Not Dead Yet festival, OBNOX out of Ohio, SBSM from Oakland, Edmonton's STRANGLED, Chicago's own POPULATION, PDX rockers EMASCULATOR, Chatanooga's Do Ya Hear We? fest, NJ/Bay Area pop-punkers PARASITES, plus photos from the opening of DIY Space for London and Springfield, IL's Dumb Fest 3D.

Comments :