Incoming: Maximum Rocknroll #389, the October 2015 issue! On the cover we've got SICK THOUGHTS, teen punk and the man behind the most prolific one-man-band du jour. Robert Collins of CONQUEST FOR DEATH takes us on the band's recent tour of Mongolia, South Korea, China, and Japan (lots of his patented fukks included!) and we've got a double dose of Portland, Oregon, with interviews with the STOPS and VIVID SEKT. We go deep and dark into the damaged minds of San Francisco's SWIFTUMZ, find out about Detroit stalwarts TYVEK, get clued into a bit of the Irish hardcore scene with RATS BLOOD, and speak with Danish dark punks MOTH and Croatian synth punks MODERN DELUSION, plus a conversation with Oakland-based feminist, anarchist, badass-ist duo RAGANA. Plus, your essential guide to new punk records, demos, books, and zines, and all of your favorite columnists.

You can also order this issue by mail by sending $4.99 in the US, $7 Canada, $9 Mexico, or $11 worldwide to: MRR • PO Box 460760 • San Francisco, CA 94146 • USA …or just SUBSCRIBE!
---
Still available: MRR #388 • September 2015 issue…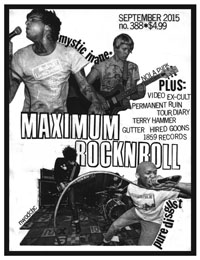 MYSTIC INANE from New Orleans, Texas's VIDEO, Memphis's EX-CULT, DC's PURE DISGUST, Toxic Reasons' manager and first-wave SF punker Terry Hammer, HIRED GOONS from Canada, Greece's GUTTER, 1859 Records, and a PERMANENT RUIN Euro tour diary.

Comments :