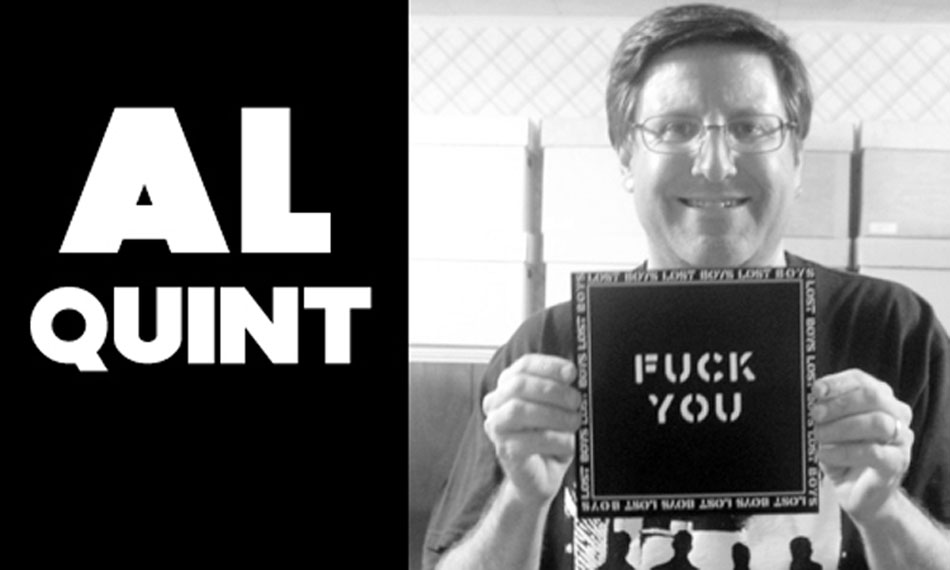 Shaking Out 1979…
"Shakedown 1979, cool kids never have the time…"
That's from a SMASHING PUMPKINS song and I guaran-damn-tee it'll be the last time you'll ever see me quote Billy "Uncle Fester" Corgan, that self-described "free-market libertarian capitalist." I'd imagine he's got some well-worn Ayn Rand novels on his bookshelf, perhaps with sticky pages, but I won't go there. Oops… 
Speaking of well-worn, I have a copy of "Punk Diary 1970-1979" by George Gimarc that I use regularly to mark various musical anniversaries. Next year, I'll have to switch over to the "Post Punk Diary," which covers 1980 through 1982, also bell-weather years. But I'm getting ahead of myself. That's for another column. 
1979 was an important year for significant releases, among them THE CLASH's "London Calling," THE JAM's "Setting Sons," PUBLIC IMAGE LTD's "Metal Box, THE DAMNED's "Machine Gun Etiquette," BUZZCOCKS' "A Different Kind of Tension." KILLING JOKE's "Turn To Red" 10" EP, GANG OF FOUR's "Entertainment,"  THE CURE's "Three Imaginary Boys THE SOUND's "Physical World" EP, THE RUTS' "The Crack," THE SLITS' "Cut."
I'm just going to focus on UK bands for this installment. That's not to slight what was happening on this side of the Atlantic Ocean or anywhere else. BLACK FLAG' "Nervous Breakdown 7", GERMS "(GI)" LP and DEAD KENNEDYS' "California Uber Alles," 7", to name just a few, were all striking shots across the bow. 
All the records mentioned above were game-changers and still get regular spins here. I never hewed to the belief that punk died after 1976 or 1977. Most people reading this would agree with that assessment. It just reinvented itself and expanded into different realms. There'd eventually be a back-to-basics reaction with hardcore, UK-82, d-beat, etc. Even if it wasn't a straightforward ramalama, head-banging, three-chord assault, the attitude was there.
THE CLASH's "London Calling" is a good example of that. Some people feel that's where the band "sold out," getting away from their true punk roots and, while there are a few miscues (sorry, "Train In Vain" is still a twee composition), it's a potent assimilation of different musical strains—along with jarring punk, there are forays into American rock'n'roll, jazz, reggae, and pop, cobbling these elements into their own vision. Keyboardist Mickey Gallagher, on loan from IAN DURY & THE BLOCKHEADS, became a de-facto fifth member, adding shadings and nuance. His organ on "Clampdown" adds a warmth that enhances the tone of the song. "Death Or Glory" is perfection and has one of my favorite lyrics—"but I believe in this and it's been tested by research… he who fucks nuns will later join the church." It's a coming of age song, balancing youthful ideals with life's realities. That's a universal theme. And accompanied by a knockout melody.
THE JAM was also always a band in evolution. They started as, essentially, Mod revivalists, knocking out two albums in 1977, well before the actual Mod revival itself came around in 1979—as did the Two/Tone movement (two more pivotal events, emerging from the first punk era). By then, though the band had already moved on. 1978's "All Mod Cons" represented a jump in songwriting and had THE JAM finding their own voice. Caustic, sometimes bitter observations set to irresistible, energetic well-honed rock. 1979's "Setting Sons" has a loose concept on some songs about three childhood friends who drifted apart and also offers poignant ruminations on warfare, alienation and lives in turmoil, the latter happening on the searing, edgy clatter of "Private Hell." They use a string quartet (shades of "Eleanor Rigby") for "Smithers-Jones," about a man going into work one day, expecting a promotion or raise and, instead, getting the boot. They show their roots with a cover of THE KINKS' "David Watts" and MARTHA & THE VANDELLAS' "Heatwave." Well-crafted, intelligent rock still seething with anger but expressed in different ways.
PIL's first album, in 1978, was a true fuck-you to the SEX PISTOLS fans and, while not a 100% triumph (some filler, not all killer), the songs managed to be both abrasive and, at times, catchy as hell. "Metal Box," later packaged as the two-LP "Second Edition," was an eye-opening effort. I didn't quite "get it" completely at the time but really regret not seeing them in 1980 in Boston (although I went to an in-store at a record store and they autographed the inner sleeve of my "Public Image" single). The original pressing was three 12"s tucked into a metal canister and very difficult to remove. Information was scant—no personnel or lyrics, just a sheet of paper listing the songs—but it was a stylistic leap forward. They went into dubbier realms, spearheaded by Jah Wobble's loping bass lines and also created mind-numbing, jarring sonic tapestries. "Poptones" is nearly eight minutes long. It's dark as fuck, about an abduction and rape, set to a repetitive guitar signature and walloping drums, both played by Keith Levene. Other songs are downright funky, weaving through otherworldly effects, synth washes (used to great effect on "Careering") and Middle Eastern timbres. The mix on the original triple 12" set is shit-hot but, as you can imagine, rather pricy these days. 
THE DAMNED and BUZZCOCKS were two more members of the "old guard" who released third albums in 1979 that moved beyond their roots while diluting nothing. THE DAMNED had split for a while and when they reconvened, Captain Sensible had switched from bass to guitar — the former was taken up by Algy Ward, late of THE SAINTS and future linchpin of NWOBHM band TANK. "Machine Gun Etiquette" is their finest moment, starting with the high-powered punk of "Love Song" and the scorching title track and the energy level rarely flags on bashers like "Noise Noise Noise," "Liar" and a smokin' cover the MC5's "Looking At You." But they also delve into irresistible pop, as with the gloomy but still raucous "I Just Can't Be Happy Today" and "Plan 9 Channel 7," introducing keyboards into the equation. The intro to "Smash It Up" is beautiful, pretty far from "New Rose," before moving into the melodious crash 'n' wallop.  
BUZZCOCKS wrote catchy-as-fuck earworms for singles (although the b-sides would take different turns) and branched out a bit more on their albums. There's plenty of head-banging punk on the first side of "A Different Kind Of Tension"—"Paradise," "You Know You Can't Help It," "Mad Mad Judy," "Raison D'etre"–along with the aching pop/punk of "You Say You Don't Love Me." Side two takes a conceptual and musical turn, starting with "I Don't Know What To With My Life" and delving into a rumination on life's painful twists and turns. It's still tuneful but also goes slightly against the grain. That comes out on the brooding "Money," with the refrain "Life is a zoo…" leading directly into the numbing mantra of "Hollow Inside." That's followed by the pounding title track, matching phrases with their opposites. If you've ever heard BABES IN TOYLAND's "Bruise Violet," they totally lifted the main riff. Finally, the driving "I Believe" stretches out to over 7 minutes with nearly half of it taken over with the plaintive repetition of "there is no love in this world anymore," before fading off into the static of "Radio Nine," with snippets of older songs coming in. Although the end of the band was in sight (only three singles would follow), they still had a vibrancy. This has become my go-to 'COCKS album in recent years.
KILLING JOKE'S first 10" doesn't have the sheets of metallic guitar that became the focal point for the "Wardance" single and first full-length. Insetad, "Turn To Red" and has a reggae/dub feel ala PIL while "Are You Receiving" is a chugging, straight-ahead rocker.
It's not hyperbole to say that GANG OF FOUR's "Entertainment" album is one of the most groundbreaking and influential albums of all time, echoing in the sound of any band using choppy guitar lines and funk-laden bass. Along with the semi-cryptic, leftist lyrics, there are sharply-played, hook-filled songs that burrow into your brain. The final three songs could be the best closing sequence on any album, from the churning "At Home He's A Tourist" to the somber "5.45," about watching the daily carnage on the tube ("the corpse is a new personality") to relentless groove of "Anthrax," with co-vocals by Jon King and Andy Gill, where they're reciting different words, but joining in for specific phrases. The feedback fade-in from Gill on the latter is one of my all-time favorite "guitar solos." 
I always thought of the early CURE records as post-punk, as well, although there wasn't the (rock crit cliché trigger warning) angularity of GANG OF FOUR. Their debut album "Three Imaginary Boys" had a tension and sparseness, along with the occasional punk jolt, as with "It's Not You."  And that's one blood-curdling scream at the end of "Subway Song." No keyboards and without the gothic textures. This is pretty stripped-down sounding. 
Not enough people know about THE SOUND. Guitarist/vocalist/mastermind Adrian Borland's first band, THE OUTSIDERS, had a punky attack and, with a slight reconfiguration in personnel, the Outsiders evolved into The Sound. Their first EP "Physical World" isn't far removed from the Outsiders. "Cold Beat" is a full-force punk blast with a mesmerizing guitar lead. "Unwritten Law" hinted at what would come, though—slowing the tempo and adding a subdued melody line to go along with Borland's emotional utterances. This approach would be fully realized on their debut full-length, 1980's "Jeopardy," which is an unheralded masterpiece. 
THE RUTS' "The Crack" is another example of maintaining a punk structure but adding onto it—mainly through the dynamic bass/drums rhythm and jabbing, sometimes reggae-inflected guitars. The arranging is complex and intricate but still all-out rocking, starting with the clarion call of "Babylon's Burning." Malcolm Owen's husky, raspy vocals give the songs an edge. They go full-on reggae for "Jah War" (which is kind of a misfire, to be honest), while "Dope For Guns" is a good merger of POLICE-ish skank and punk.  FUGAZI certainly learned a few lessons from these guys (and have admitted as much). 
THE SLITS fully embraced reggae on their "Cut" album, adding an abrasive punk/post-punk twist. From their primitive origins and a few personnel shifts along the way, The Slits had become a tight musical unit by the time they released this album in 1979. In-your-face lyrical sentiments, delivered with authority by Ari Up (who, incidentally, was John Lydon's step-daughter). There's also an air of sweetness, especially on "Typical Girls," punctuated with earworm piano trills and chorus. "Typical Girls" was also released as a single and included a killer reggaefied cover of MARVIN GAYE's "I Heard It Through The Grapevine." 
This is hardly an exhaustive list—sure, it's a bit obvious–and it's just scratching the surface. But I never assume everyone's heard all of these bands or, if they have, haven't delved into the deeper cuts. The idea is to explain why these are important releases And it's never a bad thing to get to the root source. 
Al Quint, PO Box 43, Peabody, MA 01960, subvox82@gmail.com, subvox.blogspot.com, sonicoverload.net