23
03
2009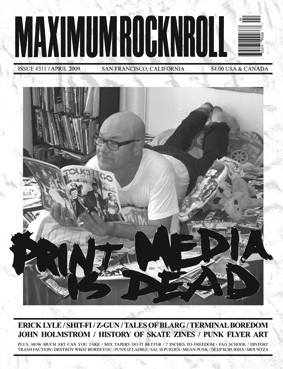 Print media is dead? Long live print media! In response to the allegations that print media is on its deathbed, we decided to put together an issue of the magazine focusing on fanzine culture and its significance in the punk community. In this month's issue we have an interview with Erick Lyle of the long-running San Francisco zine Scam, as well as, one with John Holmstrom of the legendary Punk magazine, one of the first punk zines from NYC. The artist Rich Jacobs compiled a history of skate zines, and we have an interview with Janelle Hessig of Tales of Blarg, the classic East Bay punk zine. There's a feature about the politics and symbolism of punk flyer art, and an interview with Ryan Wells and Scott Soriano of the outsider garage zine, Z-Gun. Stuart Schrader of the Shit-Fi website discusses fanzine culture in the face of blogging, and for another perspective we have an interview with Rich of the music blog and online community Terminal Boredom. PLUS we asked numerous zine makers to make a page of MRR as if it was their own zine. All of that alongside the usual columns and the most extensive review section in punk!
Order this issue of MRR on our BACK ISSUES page.


Maximum Rocknroll is run on a shoestring budget by an all-volunteer staff. If you appreciate what we do, please help by making a donation here, or by subscribing to MRR magazine or purchasing some of our fine merchandise. Thank you!
March 23rd, 2009 by MRR