6
05
2012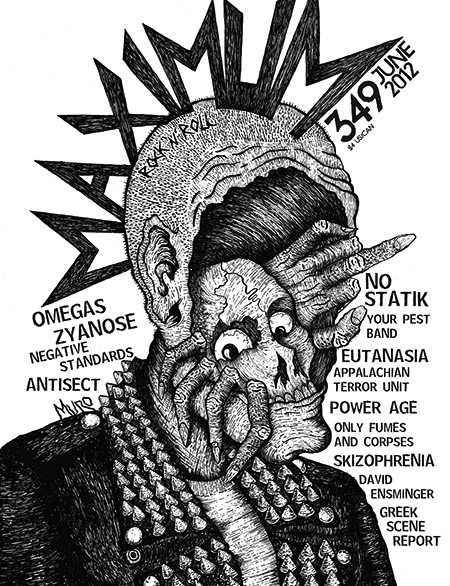 It's a new month and Maximum Rocknroll, the world's longest running independent punk magazine, has another great issue to offer! MRR #349, the June 2012 issue, with another killer cover drawing by Guillem el Muro, features UK anarcho-punk legends ANTISECT reflecting on their past and their upcoming tour, and Virginian crusters APPALACHIAN TERROR UNIT discusses the band's motivation through its radical political lens. We talk with David Ensminger about his book Visual Vitriol: The Street Art and Subcultures of the Punk and Hardcore Generation, the Bay Area's own NEGATIVE STANDARDS tells us about their multimedia assault to their noisy hardcore crustiness, Montreal Canada's hardcore insanity known as the OMEGAS give us the down low, and ONLY FUMES AND CORPSES gives us a look at hardcore punk in Ireland. South Africa's first punk band POWERAGE tells us about the emergence of punk in their side of the world, and the Bay Area's NO STATIK discuss their scary hardcore driven noise mess. And this issue features three Japanese bands, starting with the long-running ZYANOSE telling us about punk in their town, while Japanese pop-punkers YOUR PEST BAND chime in, and the raw and loud noise attack that is SKIZOPHRENIA gives us a quickie. We also have a moving testament to the legacy of Peruvian punk movement Rock Subterraneo and the triumphant return of EUTANASIA; and a killer Greek scene report done by our very own new coordinator Lydia! As always, we also have an array of columns, news, and the most extensive review section in punk rock print!
Also, we are happy to announce and to welcome you all to the very first month that MRR can officially say that we are completely independently distributed! Come celebrate with us by keeping us alive and supporting independence.
Go to our BACK ISSUES page to order this issue.
May 6th, 2012 by MRR