This originally ran in MRR #317, October 2009, that issue is sold out but you can download it here
Gurdon, Arkansas
December 11, 1952
9:45 a.m.
I'm born.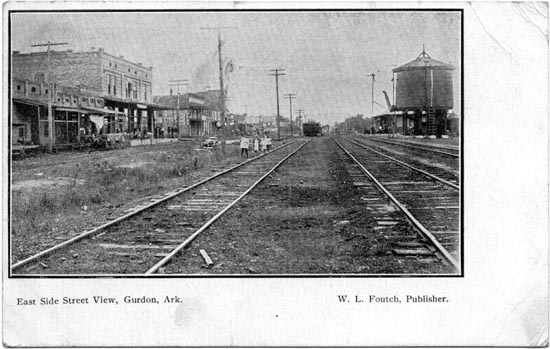 My whole family was from this blink-and-miss-it small town in Arkansas. One little clump of stores here and another there. Two railroad tracks running like rough zippers through town. The tracks full of dead men still spooking the town with lanterns. Gurdon, where Jimmy Witherspoon got knocked on the head with the blues. Where bored lumbermen concocted the International Concatenated Order of the Hoo Hoo, with a black cat as their symbol. A joke that became a weird version of the Elks Club. Although my family moved away due to cutbacks in the Missouri Pacific Railroad (which used to belch black smoke in the old twilight), a few things stuck in my head forever.
When the Butlers moved in next door—Cleda and Gene, with young Brenda, and the first cool person I had ever met, Russell Butler. He was probably only sixteen or so, but to me he was ageless and brought out the need to let my "cool seeds" grow. He was an artist, a beatnik who painted pictures of himself in coffins. I knew I had been influenced. Got my cool seeds sown. A taste of being different, and the shape of things to come.
Going to vacation—Bible school—one hot summer, when the humidity could be sliced with a rusty butter knife. The First Baptist Church: a cool breeze in the auditorium, Kool-Aid painting our lips ruby red, and a fragile mound of cookies. They ended the day by playing the old hymn "Just as I Am." Tears rolled down my face, and I knew I wanted to give my life to Jesus, so I walked down the aisle into the arms of Brother Nelson. I was saved. I was eight.
The Daisy Queen, early 1960s, when people were rumbling and fawning over radios. My mother's dream—a place to eat where all the tiny town's teenagers hung out. Male car hops, and a teen side, which was just a big old room with benches. I could watch them dance loose and free. Girls putting on make-up and drinking Cokes, boys flirting with the big hair girls and dancing too. Me looking, wondering if I could be the boyfriend someday.
Soon, the family was all packed up and moved to Palestine, Texas. New things to freak out about. A new school of hardcore rednecks…pretty eyeliner girls and strapping boys in the shower haze that I remember to this very day.
As my life shifted from Arkansas across the pancake batter Red River to thick piney woods Texas, lyrics were being implanted deep in me. I didn't know it, but they were becoming a permanent part of my spleen.
My grandfather was poor, poor, poor. He and my grandmother (my father's parents) were saved by the railroad, which offered a steady job to the lean and hungry people of the time, when some headed west to pick fruit in the bowels of Oregon and some stayed and ate dust for years. My father got a job at the almighty railroad as well. He worked there all his life and left the job only to join the Army and fight in World War II.
He was in Japan after the big bombs fell, loosening the roiling clouds of death that turned entire cities into gutted wastelands. He used to tell me about the shrines people had in their houses. I asked, "How did you see what was in their houses?" He told me, without lingering shame, "We'd just go in and look around." I asked, "Did you knock?" He laughed deep down and said, "No, that's not how it worked." I knew then, right there, there would be no army for me. Fuck that shit.
He came right back to those sturdy engines, those trains, as if the bombs never fell. It was expected of me to do the same.
He told me about going to work for the railroad—the honest pay and hard work, a kind of untrammeled American dream people wanted to believe in even as Vietnam squandered it with napalm and Nixon. Even as I said, yes, grandpa, I could, I knew I would never do it. I knew I wasn't meant to look down those bleak black tracks and feel like home was beneath them. I couldn't even pretend to love the heft and bulk, or history, of trains, no matter how many times Elvis purred "Sixteen coaches long…got my baby and gone."
Read the rest of this entry »

Comments :