March 14th, 2011 by
MRR
The very first time readers got their hands ink-stained with the pages of Maximum Rocknroll, it was through the zine insert for the now-classic Cali punk/HC compilation Not So Quiet on the Western Front. Right from the beginning, MRR wanted to have its hands in everything DIY punk: zines, records, radio, show spaces, politics, and more. That locals-only double LP was released by then-MRR Radio collaborator Jello Biafra's Alternative Tentacles, and served as ground zero for both Maximum Rocknroll fanzine and Maximum Rocknroll Records. Just two short years later, MRR Records unleashed its first official release onto the world: the era-defining ripper Welcome to 1984, a compilation that managed to introduce some of the greatest global hardcore bands to a wider audience. Always reflecting both the local punk scene around it and the happenings of the international punk world, MRR Records next released the Turn It Around double 7″ EP, featuring local bands associated with the nascent Gilman Street Project, and the Dezerter and Naïve records, both from behind the Iron Curtain. The '90s saw MRR Records focusing on politics (Noam Chomsky), old and new punk classics (Bad Religion, Furious George), and the emergent garage punk sound (Spoiled Brats, et al.). After a seven-year hiatus, MRR Records re-emerged with the monster 2006 international HC/punk comp Public Safety, followed by another SF/Bay Area comp, Noise Ordinance, with much more sure to follow!
—Golnar Nikpour 2011
MRR Records Discography:
MRR 001 - Welcome to 1984 compilation LP (1984, Reissued in 2010). Out of print. Terveet Kädet, Olho Seco, Crucifucks, Electric Deads, Inferno, Kidnap, NOTA, Icons of Filth, RIP, Skjit- Lars, Rattus, Raw Power, Bristles, Depression, BGK, The Stalin, Frites Modern, UBR, Mayhem, Red Tide, Moral Demolition, Huvudtvätt, Upright Citizens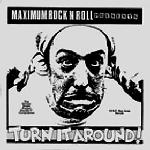 MRR 002 – Turn It Around! compilation 2×7″ (1987) 3,000 pressed(?). Compiled by David Hayes. Reissued as an LP in 1991 as a benefit "bootleg" for Gilman Street on Very Small Records (1,087 pressed). Out of print.

Corrupted Morals, Sweet Baby Jesus, Isocracy, No Use for a Name, Crimpshrine, Operation Ivy, Stikky, Nasal Sex, Yeastie Girls, Rabid Lassie, Sewer Trout, Buggerall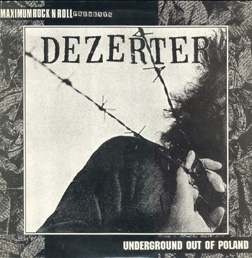 MRR 003 – DEZERTER – Underground Out of Poland LP (1987). Reissued in 2010 by Nikt Nic Nie Wie.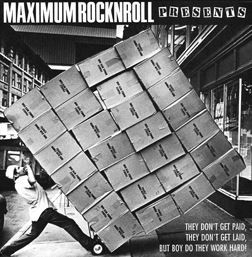 MRR 004 – They Don't Get Paid, They Don't Get Laid, But Boy Do They Work Hard! compilation LP/cassette (1989). Out of print.

The Detonators, Amenity, Christ on a Crutch, Nausea, Apocalypse, Conspiracy of Equals, Screeching Weasel, Jawbox, Dissent, Downfall, Dead Silence, Cringer, Bazooka Joe, Libido Boyz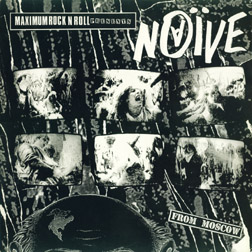 MRR 005 – NAÏVE – Switch-Blade Knaife LP (1990). Out of print.
MRR 006 – BAD RELIGION/NOAM CHOMSKY – New World Order 7″ EP (1991).

Out of print.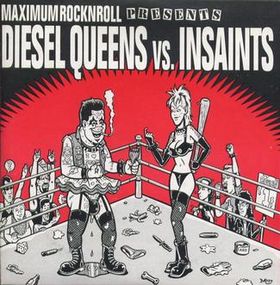 MRR 007 – DIESEL QUEENS/INSAINTS – split 2×7″ (1993). Out of print.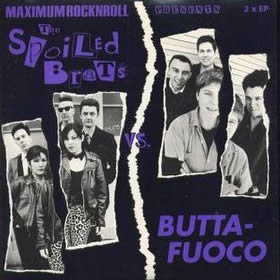 MRR 008 – THE SPOILED BRATS/BUTTAFUOCO – split 2×7″ (1994). Out of print.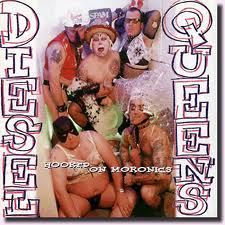 MRR 009 – DIESEL QUEENS – Hooked on Moronics LP (1995). Out of print.
MRR 010 – FURIOUS GEORGE – I Gotta Gun/Burger King Is Dead 7″ (1996). Out of print.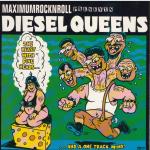 MRR 011 – DIESEL QUEENS – The Beast with Five Heads… And a One-Track Mind! 7″ EP (1997). Out of print.
MRR 012 – THE B-SIDES – LP (1999 We still have a few copies of this. Buy one here via PayPal:

Or send $10.00 US • $12.50 Canada/Mexico • $20.00 world to MRR • PO Box 460760 • SF CA 94146 • USA Limit one per customer.
MRR 013 – STRYCHNINE – Born Too Loose LP (1999). Out of print.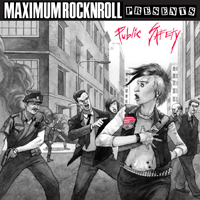 MRR 014 – Public Safety compilation LP/CD (2006). Out of print.

Ääritila, Career Suicide, Deadfall, Direct Control, Disease, The First Step, Formaldehyde Junkies, Framtid, Gorilla Angreb, Holy Shit, Look Back And Laugh, Limp Wrist, Nightmare, No Hope For The Kids, Observers, Pedestrians, Persevere, Regress, Regulations, Signal Lost, Sin Dios, Sleeper Cell, Smalltown, Smartut Kahol Lavan, Strung Up, Sunday Morning Einsteins
MRR 014.5 – BUM KON – Drunken Sex Sucks LP (2008)Recordings from 1983; co-released with Smooch Records. Available in our webstore.
MRR 015 – Noise Ordinance compilation LP (2011). Limited quantity still available in our webstore.

Morpheme, Needles, Rank/Xerox, NN, Shotwell, Black Rainbow, Surrender, Conquest For Death, Acephalix, Airfix Kits, Ruleta Rusa, Face The Rail, Ecoli, Migraine, Year One, Love Songs, Suicide Bomb, Hunx and His Punx, Acts Of Sedition, Fix My Head, I Will Kill You Fucker, Duck And Cover, The Fleshies. 32-pg zine insert.
MRR 016 – Sound the Alarms!! compilation double-12″ (Jan 2014) 1,000 pressed. Sold out. Download available here.

Mülltüte, Silla Eléctrica, Synthetic ID, Total War, No Statik, Dictadura, Permanent Ruin, Vivisektio, Giffords Treatment, Question, The Fight, Lotus Fucker, Ruidosa Inmundicia, Anti You, Verrugas, Orden Mundial, Kuudes Silmä, Nuclear Spring, Gutter, Entre Rejas, Estampido, Sietokyky, Hondartzako Hondakinak, I.R.A., Πανδημία (Pandemia), DHK, Kvoteringen, Kontatto, Lei Do Cão, Cülo, Maailmanloppu, Obediencia. 36-pg zine insert.
Other MRR/related releases:
Virus 14 – Maximum Rocknroll Presents: Not So Quiet on the Western Front compilation 2xLP – Alternative Tentacles (1982). Available through Alternative Tentacles.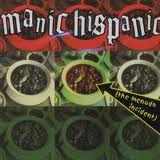 MANIC HISPANIC – The Menudo Incident LP/CD (1992). The LP version was funded, at least in part, by Tim Yo, 'cause he loved it.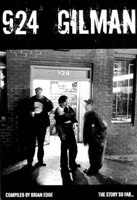 924 Gilman: The Story So Far… Compiled by Brian EdgeIt's a Book! 400 pages, with over 200 photos and lots of first-hand stories, flyers, memorabilia, and a list of every Gilman show through 2003…awesome!

We are sold out of this book, but you can still get it through AK Press.

Categories :