I Put a Spell on You: The Bizarre Life of Screamin' Jay Hawkins

Steve Bergsman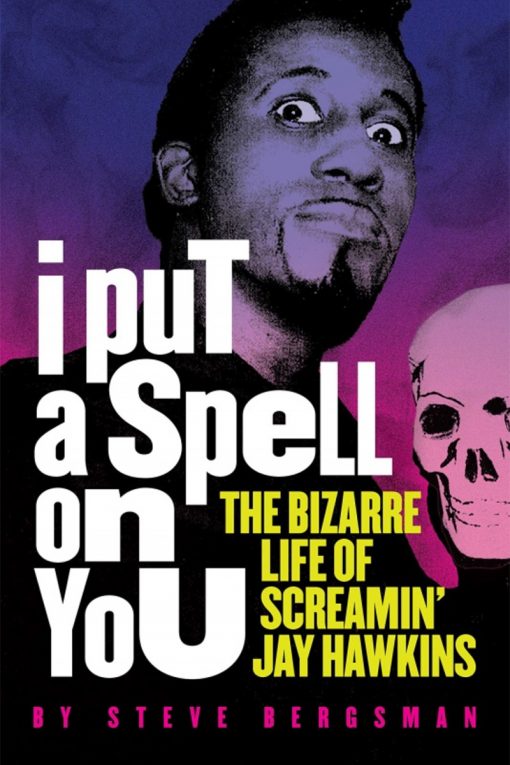 The subtitle of this book, "The Bizarre Life of Screamin' Jay Hawkins," is a misnomer. His story, unfortunate as it might be, is similar to the less successful musical artists of his time, Black or white. He worked through the Chitlin Circuit. Used by artists during the first part of the 20th century, The Chitlin Circuit was a framework of Black-friendly venues spread out throughout the  American Midwest and South. 
    Hawkins had one hit, "I Put a Spell on You," and couldn't quite crack the charts again. He spent the 70s and 80s very poor as success evaded him. His importance grew as time passed and in his golden years he finally began to receive appreciation for his place in Rock n' Roll history. 
    He had some 30 children with many different women. He had drinking and drug issues and a number of abusive marriages (just for clarification in all but one of those marriages he was the abuser.) Constantly broke because of bad business deals, he spent much of his time trying to get money out of others whether he deserved it or not.
    What makes Screamin' Jay's story different is he was such a teller of tall tales which range from the plausible to the titular bizarre. The author, Steve Bergsman, makes use of them by attempting to lay out as many of the different tales and trying to figure which one is the closest to the truth. But the book is still devoid of much depth. As an overview of Screamin' Jay's life and career, and the only book about him, it is serviceable but it reminded this writer of those books about notable individuals one could check out in elementary school just with cruder topics.  
    Bergsman makes no bones about the fact that Hawkins did time for statutory rape or the abusive nature of many of his relationships with men and women or the way he would address business matters with threats or a gun. Not that this is uncommon for the time period in any way. In a sense it makes the point that Screamin' Jay Hawkins was a man of his time not unlike Wilson Pickett or James Brown. Bergsman does not not avoid pointing out the questionable nature of some of Screamin' Jay's stage antics, which were called out at the time by the NAACP for being a major step back for Black performers. 
    But that is where he leaves it. As a white writer, that is where he should leave it because I would be uninterested in his interpretation although, some nuanced view would have been nice. Maybe a couple of interviews with people with knowledge of the subject might have made this fluffy little book a little more enlightening, since Screamin' Jay's act took on a life of its own and is almost as well known as the song"I Put a Spell on You." 
    Late in the book Hawkins' relationship with the filmmaker Jim Jarmusch is brought up and, as a fan of Jarmusch, I noticed a few inaccuracies. For one, he describes Jarmusch's Stranger than Paradise as a film about, "a rootless Hungarian emigre and his pal visiting his 16 year old cousin." This is not true.     The Internet Movie Database says the movie is about, "A New Yorker's life thrown into a tailspin when his younger cousin visits him." Maybe this seems like splitting hairs but information that is the inverse of reality in a book where the writer goes to such lengths to describe the tall tales Screamin' Jay told casts doubt on how well the previous 207 pages have been researched.
    According to the "About the Author" section at the end of the book, Steve Bergsman is a freelance writer and has written a number of books about Real Estate with titles like Maverick Real Estate Investing: The Art of Buying and Selling Properties like Trump, Zell, Simon and the World's Greatest Land Owners. He's also written books about Mary Wells, Billy Preston among other R&B subjects. I won't be reading any of them unless they are more informative or, at least, written better than I Put a Spell on You.