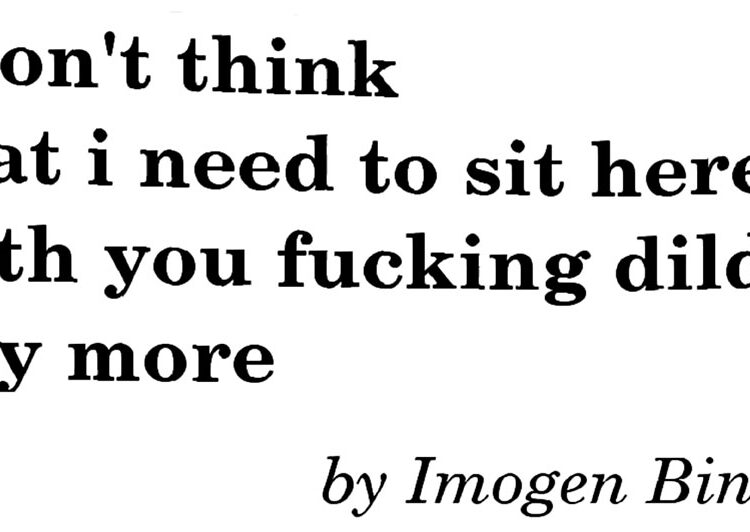 I Don't Think That I Need to Sit Here With You Fucking Dildos Any More
What's up, Maximum. Rather than write you a goodbye love letter, this is a love letter to my band. 
I don't remember if I started this column first, or if we started Correspondences first, they started around the same time, and I'll always associate their beginnings. I moved to Portland, Maine in 2010 because my partner started midwifery school. It was a weird time in my life, because I'd just left the Bay and for the last few years I just. Kept. Having. Shitty. Experiences with queers. This followed me to Portland, too. I had two unrelated shitty transmisogyny things happen with trans guys I didn't know, in my fucking house, pretty soon after I got to Portland.
I was not trusting queers.
It sucked, because I didn't want to hang out with queers, but also, have you ever hung out with straight people? They're even worse. 
I spent a lot of time in my room trying to figure out how to be my own band. 
I don't remember why I was at the party where I first spoke with Emily and Lee. Maybe self-harm? I think I was talking to Emily about how I'd been playing guitar and singing in this band Angela Chase for the last three years and I was stoked to be playing bass again, because before I left the Bay Francesca gave me a bass and bass has always been my favorite. Emily played cello. Like, knew how to play it. Like, went to school for it. She'd been in a million music projects and knew what she was doing. So we were talking and I think Lee overheard us and was like "I got some drums because I was trying to join What Cheer Brigade but I didn't get in because I don't really know how to play them," and Emily and I were like "let's fucking start a band." 
"Dude!" either Emily or I said. "We could play doom metal! That way you don't have to play anything fast or complicated!" 
Sonya and Alicia, the other two members of Angela Chase, had seen a doom metal band once by mistake and had thought it was the funniest thing they'd ever seen—to the point that we would often bust into dumb fake doom metal between songs or to open sets. But because Lee didn't have a lot of experience playing drums, suddenly unironic doom metal was on the table. 
You ever notice how stupid ideas are often great ideas? 
I say a lot of dumb shit. I don't always make it clear that I'm kidding, and I don't usually care if you can tell. From the absolute beginning, Correspondences was the kind of band where somebody would say a dumb idea, somebody else would say something dumber, none of us would crack a smile, and then we'd do the most absurd version of the original idea. But it worked from the get-go. Emily talks about how, in her other bands, she always has to turn down her most self- indulgent ideas, but in Correspondences, we lean into them as hard as we can. 
We started practicing at Lee's house, Baberham on Lincoln Street. Lee was working as a baker so from the first practice we had pastries and snacks, which, let me tell you, if your band doesn't prioritize treats during band practice, fuck your band. It was awesome. She's also always been an herbalist so she had this epic, overflowing cabinet of tinctures and herbs and stuff, as well as the kind of plants and sunlight and sweet roommates that light up a collective house from the inside. Y'know how sometimes you go to a place where a bunch of people live and you're like man, it feels good here? It was like that. 
My last band had never actually properly recorded anything, so I bossed everybody into recording the first practice and then into releasing it as a demo on bandcamp. It's still up there, the Baba Yaga demo. They're long, rambling bass, drums, and cello pieces and they're awesome. I think we made two of 'em up on the spot and one was based on a slow two-chord arpeggio thing which, to this day, despite having played it a million times in practice and at shows, I am unable to play properly. I made it up! I wrote it but I don't know how to count it. Apparently I switch between playing it in 4/4 and 7/8 or something, unpredictably, without being aware that I'm doing it. But you know what? Who cares. Because, relevantly, I also bossed Lee and Emily into this idea that the worst thing about music is all the counting and rather than counting to four all the time we should reject patriarchal hegemony by playing parts of songs over and over until somebody decides to go to the next part and communicates it by exchanging meaningful looks. I am kind of incompetent at music. It doesn't fucking matter! Our band was incredible immediately. That demo is long and aimless but it's also awesome and I can still listen to it. 
We fell into our roles in the band immediately, too. I didn't need to be able to count music right because I'm the enthusiastic one. Emily is the one who knows stuff about music. Lee is the band mom—she has pastries and herbs and a truck. 
Weirdos and queers in Portland actually listened to our demo and liked it, which was wild. We kept writing songs and we got invited to play shows. I started playing guitar on one song, and at our first show—a basement in Portland with Falls of Rauros, an incredible Portland band—I hadn't made a plan for what to do with the bass when I switched to guitar, like to bring a stand or something, so I handed it to this guy Isaac, who just held it while I played guitar. 
We played by candlelight wearing veils. 
This is the most important thing about Correspondences: we are fucking stoked about each other and we are completely obsessed with our own band. We self-mythologize so fucking hard. I don't think it would have mattered if anybody cared about what we were doing, because mostly we're just stoked on each other. But people did care. 
We kept having practices at Baberham where we gobbled up treats; we kept writing songs; Lee got a dog, who usually slept in front of the drums when we practiced; I kept borrowing people's amps, because the only bass amp I actually owned was a forty dollar piece of broken shit that I think I wrote about buying in one of my first MRR columns.
We did a split tape with this band Swaath, then toured with them. They ruled. They would bring fucking full stacks into basements. Ryan from Swaath let me borrow his amp for I think that whole tour—thanks Ryan. We earned the "playing more shows on a tour than there are days" merit badge by playing at Girls Rock Philly one afternoon on that tour—thanks Smoot. I think we played with HIRS that evening. We went from Portland down to Richmond, Virginia (where I saw a pikachu in the driveway after the show) and then back up to Burlington, where a couple of drunk heterosexuals on a roof called us "hairy leg wooks," which we had to look up on urban dictionary. We played some of the most primo basements in the northeast and we played with some of the most awesome bands, including the sorely missed Groke from Providence, who also let me borrow their bass amp at least one time. We also played the Space Gallery, the legit venue in Portland, a couple times, including opening for A Silver Mt. Zion for one show, which ruled because I know they're not really a MRR band but I did get to talk about MRR, radical doulas, and hating misogynists with Efrim Menuck before the show for a while, which was cool. Efrim Menuck rules.
Toward the end of 2011 it it happened that all of us were going to move out of Portland around the same time. I don't remember exactly what any of us were doing. I think Lee left to do herb school in Vermont? But at this point people in Portland knew us enough that we were like, I bet we could pull of a goodbye show. 
We pulled it off as hell. 
This Portland label, Eternal Otter, offered to do a tiny run of clear lathe-cut records for it, so we were like fuck it, go big or go home. We recruited I think nine friends and loved ones to be a ghost chorus, put up a bunch of burlap and electric moon phases, and did a "there's no such thing as a bad idea" farewell show. It ended up being packed! People gave a fuck as hell about our band, we sold way more copies of the record than were pressed (I think we probably owe a lot of people five or ten bucks or however much they cost, because there was no second run), people freaked out, and it was awesome. I mean, it wasn't really a music venue and I don't think the monitors were good so we probably sounded like shit, but who cares. 
Then that was it.
But we didn't want it to be it.
I taught bass at Girls Rock Camp in Burlington from I think 2010 to 2015, and Lee taught drums for at least a couple of those years. We have talked about getting back together to play more shows consistently since that farewell show. We did manage to get back together to do a tour for a week at one point, I don't even remember which year now. 2014? 2015? It was only a week but it was with one of the best bands in the world, Ragana, who it turned out were also fans of our band. (Also one time another of the best bands in the world, Thou, who would go on to do a split with Ragana, name-checked us in an interview. That ruled too.) We played a show in Boston where we jumped on a trampoline in the yard outside the basement while Ragana played, and then they jumped on the trampoline while we did. 
One morning I woke up half-dead on Emily's couch in Providence at the end of a week of touring and saw Maria from Ragana sitting on their tour truck's tailgate with a guitar, writing music in the sun. 
New Year's Eve a couple months ago Emily invited me and Lee to a party at her house. We had initially hoped to play a brunch show in her living room on new year's day, but we didn't get it together. Word got out, though, and people were bummed when it didn't happen. We did make vague plans to get together and get proper recordings of all our songs this year, though, because all our recordings kind of sound like shit. We also got to self-mythologize. It is still really fun to hang out with those two, they're some of my favorite people in the world. 
This thing also happened where I became a social worker three years ago, Lee started doing circles of accountability stuff with people leaving prison in the last year, and I just wrote a recommendation for Emily to go to social work school. Unrelated to each other, we sort of all ended up doing work to make the world less shitty. 
But here's the thing. (And here's where it turns out that this isn't only a love letter to my band, but a love letter to MRR too.) Correspondences was a really important thing in my life for learning not to fucking hate everybody, in the same way that being involved in MRR has been. I mean, we all know that the sort of people who host and attend and perform at shows in basements by bands who have no intention or hope of blowing up are the best people. But before Correspondences, I didn't really know those people. I'd been reading MRR since high school and playing in bands that played mostly bars, with the occasional living room or back yard, since I started playing in bands. That shit is not a community. Doing a weird band without goals or plans beyond doing weird stuff that we liked opened me up to a world of queers and people who are somehow cool despite not being queer, who are and have been doing weird things, who will continue to do weird things. Freaks, nerds, romantics. The best people. Correspondences—and the stuff that I got to because of Correspondences— restored my faith in people. There's something about being on tour in a pickup truck with two bandmates and a dog, hot and greasy, getting where you're going, constipated and exhausted, and meeting a fleet of entirely new people in a town or city you didn't know, who are stoked and kind and eager to connect. We all know how many assholes there are in the world, but this punk shit? At its core, it's about the fact that there are way more awesome people in the world than you ever imagined. 
And that's gonna be true even after MRR. 
ENDNOTES 
1. I'm a couple hundred words over and, on re-reading this, I barely even gave you a sense of why I love Lee and Emily so much—what they're like. Just trust me, they're the best. 
2. The world sucks right now, but as Rebecca Solnit has pointed out, hopelessness is a kind of fortune-telling, and you're not psychic. All the revolutions? All the good, big shit that people have accomplished in history, which from our position in the future seems to have been inevitable? Beforehand, it absolutely did not seem that way. People have been scared for the future before, and they did stuff. We don't know how this ends. 
3. See you in hell, Maximum.