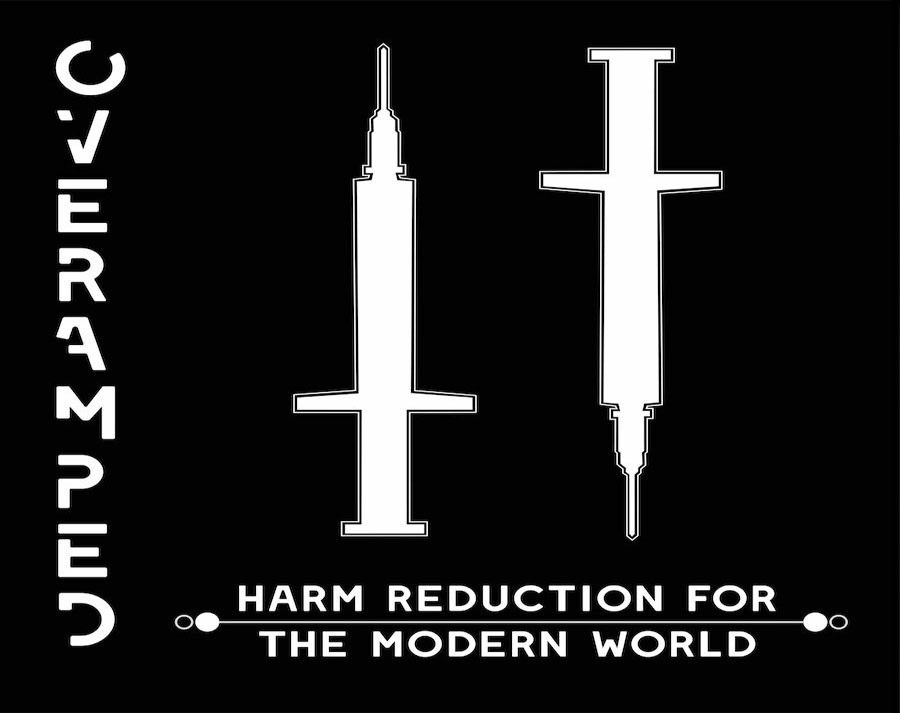 Overamped: Harm Reduction for the Modern World
Safer Sex Work 
Last April, the US government signed two federal acts into law: the Fight Online Sex Trafficking Act (FOSTA) and the Stop Enabling Sex Traffickers Act (SESTA). These laws are intended to help stop sex trafficking by shutting down websites where people can advertise and solicit sex, but the unintended (or intended?) consequences are disastrous for people who conduct consensual sex work, which is the overwhelming majority of people in the sex industry. Harm reduction doesn't just apply to substance use, there are lots of harm reduction measures that have been used by sex workers for damn near centuries. In recent times, the internet has played a major role in reducing harm while exchanging sex. 
When Backpage, Craigslist personals, Fetlife, Eros, and other pages got shut down last year, it devastated the community. So many of the safety measures and income streams that people had created over the years were obliterated overnight. And the impact is much worse for communities that are already at much higher risk for violence, murder, stigma, and financial insecurity than other sex workers with relatively more privilege and safety nets. 
When asked by Newsweek about her reactions to the new laws, an unidentified sex worker states, "[I'm] devastated and terrified because people are going to die. I know that sounds blunt and maybe a little alarmist, but it's not. The most marginalized of us are going to die. Trans people, people of color, poorer people are going to die. I'm a sex worker as a last resort…The people who have the privilege of stepping away from doing sex work are doing that, and the people who have no choice are banding together and figuring out new strategies, even financially supporting each other." 
The internet allowed sex workers to cut predatory or violent pimps out of their lives by providing a forum to find their own clients. Using websites like Backpage, people were able screen their clients by verifying their identity, sometimes by getting multiple forms of legal identification. The internet facilitated sex workers to share referrals with one another, contribute to bad date reports, and even weed out potentially dangerous clients by creating email intake forms. 
The Red Umbrella Project is a sex worker advocacy organization based out of New York. In 2015, they coupled with the National Center for Transgender Equality and the Best Practice Policy Project to publish a report called, Meaningful Work: Transgender Experience in the Sex Trade. I reached out to get a quote from one of the authors of the report, Darby Hickey, who also happens to be a friend I know from back when I lived in DC. Darby is a self- described aging punk, former sex worker, and legislative staffer to a DC Councilmember. Here's what she has to say about her personal experience working on the report" 
"I think Meaningful Work was an important analysis of data because policy makers and the public put such stock in research reports like it, and there is a serious lack of such publications (or the underlying data) in the U.S. context. Those of us who have engaged in commercial sex, or are close to it somehow, know firsthand about the rights abuses that happen, but for a stigmatized community to be heard you need data to back up those stories. Even that isn't good enough often. Meaningful Work came a number of years after another project I worked on with a team of community-based researchers (i.e. people from the community that was the target of the research) called Move Along which was about the experiences of people policed under prostitution laws. That effort came at a time of terrible new policies in D.C. regarding sex work, including 'prostitution free zones.' We unsuccessfully fought that legislation but after it passed we decided to document things, and now, over a decade later, we are in a very different situation—rather than more terrible policies being heaped on sex workers and related communities, there are serious conversations about decriminalization of sex work. For my part, rather than protesting Councilmembers, I now work for one, and harm reduction deeply influences my approach to 'working on the inside.' I feel very lucky to have written the law that repealed the 'prostitution free zones' and to have helped move the conversation forward, but I also recognize the limits of what I'm able to do. Harm continues to flow from the law and the state, but I try to reduce it." 
The Meaningful Work analysis found that approximately 11% of transmasculine and transfeminine people had conducted sex work at one point in their lives, a much higher percentage than the general population. They also found that almost half of the Black trans individuals represented in the survey had participated in sex work and earned significantly less than their white cis counterparts. Latinx workers are also at a much higher risk of violence, and undocumented people could be deported if they are arrested for solicitation or other "crimes." 
Sex workers who earn less are limited in their ability to turn away clients who set off alarms for them, and experience more violence, trauma, and are even at higher risk of homicide as a result. The overrepresentation of trans people in sex work, specifically Black trans sex workers, speaks to their experiences with workplace discrimination, discriminatory policing and sentencing, and having less access to capital compared to white, cis sex workers. The Meaningful Work report states that about half of Black and Black-multiracial respondents earned less than $10,000 a year, and less than 15% of them received public assistance. They also found that while only 16% of white sex workers had spent more than six months in jail or prison, 42% of POC sex workers had spent more than six months in jail or prison. 
Speaking of incarceration, calling the police to make a report or to get help can make things much worse for a lot of people who engage in commercial sex, and the overwhelming majority of violent incidents are never reported to police. Cops all over the world are known to abuse people who exchange sex and often end up humiliating, arresting, assaulting, or stealing from sex workers. One in five respondents of the Meaningful Work study experienced police officers demanding sex in exchange for not being arrested or mistreated. HIPS, Another DC-based organization, surveyed 149 (mostly street-based) cis and trans women and found that 90% of respondents had experienced violence while working, but only one respondent indicated that she would go to a police officer if she got hurt while working. 
One of the biggest blows to occupational safety is the undermining of the market for commercial sex. While some people enjoy the work and do it by choice, many exchange sex because they don't have other options. So with their livelihood in jeopardy, many sex workers have had to go back to working the street. 
Working on the street is much riskier than taking incalls. In 2008, The Office of Police Integrity in Victoria conducted a study in which they found that street-based sex workers were more likely to experience aggravated sexual assault, unlawful imprisonment, kidnapping, robbery and non-payment than non-street- based sex workers. A study out of Australia found that street-based workers were twice as likely to experience work-related violence, and were significantly more likely to report accepting alternative forms of payment, such as food or shelter, than non-street based workers. The authors state that this was a clear indication of the elevated levels of poverty and homelessness amongst street workers compared to other sex workers. Incidentally, studies also show an inverse correlation between income level and HIV prevalence among sex workers and a higher likelihood of developing chronic problematic substance use and mental health disorders. 
Below are some tips I've compiled from sex workers and sex worker-based organizations such as The Red Umbrella project, St. James Infirmary, and the North Carolina Harm Reduction Coalition. 
1. Screen your clients and get references whenever possible. 
2. Negotiate and get the money up front. Keep a set price list and establish limits of what you will and won't do.
3. Trust your gut and be aware of your surroundings. 
4. Check your local bad date sheet and contribute to it. 
5. Have a safe call—someone who expects to hear from you at predetermined times and who knows what to do if you use any of your established code words. 
6. Use the kite-string website if you don't have a safe call. You can set it to call your emergency contacts if you don't respond to a text after the amount of time of your choosing: kitestring.io 
7. Enable your phone to allow your friends to track you on GPS. 
8. Keep the money your date gives you separate from the rest of your money so if you do get robbed they may not take your whole bankroll. 
9. Always check in with, or pretend to check in with someone once you get into a room or before you get into a car. Make sure your client sees you waving at someone and saying that you will be back in amount of time. If you're inside, call your safe call in front of the client so they know that someone is expecting to hear from you at a certain time. 
10. Carry a personal alarm that can make a lot of noise if someone is attacking you.
11. If you are working out of a car, try and keep one of the doors slightly ajar. Try not to wear clothing or jewelry that could get caught on something, ripped out, or pulled. 
12. Put a little bit of menthol solve in your nose in case your client smells bad. 
13. Be wary of putting yourself in sexual positions which limit your mobility.
14. Carry more condoms, lube, and wipes than you think you might need. Bring candy and chapstick so your mouth doesn't get dry.
15. If a client is unwilling to use a condom, here are some options. 
● Say fuck that and get out. 
● Use lots of water or silicone-based lube, it helps to reduce friction, which will reduce your risk of catching an STI or HIV. 
● Cheek a condom while giving head (google it). 
● Put in an internal condom before seeing them. You can put it in and leave it there for several hours before having sex. See if your client is willing to continue with internal condoms. If you are using them without telling him, know that these can be noisy and that a client might pick up on it. 
16. Always know how many passengers are in a car. Check to make sure there is no one else hiding in the car when you get in. 
17. Use a condom over your sex toys and wash them with soap and water after each use. 
18. Try never to take drugs from a John. If you're using, bring your own drugs, syringes, all your works, and pipes. 
19. Stay hydrated!
I know I sound like a broken record but I don't care. Stigma breeds violence and hurts literally everyone. Legalizing sex work and drug use would alleviate so many of the risks that are currently inherent within them, but don't need to be. Prohibition never fucking works. <3 dearauntiehazel@gmail.com